Illegal Employment Contracts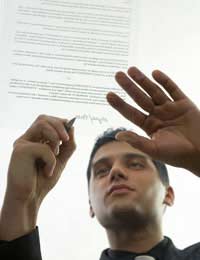 In Britain there are strict terms regarding what actually constitutes a legal employment contract. Illegal employment contracts are widespread and the consequences for an employee working under an illegal contract or an employer who uses them to operate a business can be severe.
Employment Contract Terms
When an employer and employee agree to a working relationship then they have entered into an employment contract. There are a number of terms, rights and stipulations involved in the employment contract, and an important one is statutory rights. Every employee who has an employment contract is entitled to statutory rights such as working conditions, pay, redundancy, maternity leave and a range of other rights.
If an employee has been given a contract that does not include these statutory rights then the contract is not necessarily illegal but it will not be enforceable by law. Similarly if an employee knows that their contract is illegal he or she may not be entitled to claim employment rights. The consequences of these illegal employment contracts may be dependant on how serious the illegality is considered. The consequences can also be dependant on how much collusion took place between the employer and employee with regards to the employment contract.
Other Illegal Employment Contracts
In most cases employees will be able to tell whether they are working under an illegal employment contract. There are a few rules which basically shout out that the contract is illegal. These will include the non payment of tax and national insurance on wages or taking specific cash in hand work in order to avoid paying tax and national insurance.
Cash in hand work can also be illegal in certain cases if no declarations regarding the employment are made and no tax contributions are made. Employment that includes illegal or immoral acts as part of the job would also constitute an illegal employment contract.
Consequences of Illegal Contracts
Consequences for both employer using illegal contracts and the employee who works in this manner can be severe. It can be a matter for the courts to decide and the decision will be based on many factors such as amount of collusion between employee and employer. Employers who negligently employ illegal workers face fines of around £10,000 per worker and they can face an unlimited fine or prison sentence if they hire the employee knowingly. Employees who work under illegal employment contracts can also face large fines and a criminal record.
Illegal Employment Contracts and Immigrants
Britain has more than its fair share of illegal workers from other countries and the rise in severe penalties has reflected this. Issues such as work visas and work permits need careful scrutiny if an employer is hiring a worker from abroad. Employers need to check visa stamps, valid work permits and passports for any new employee who is not a British resident. Penalties when using illegal immigrants have become more severe and employers claiming ignorance will not find this a reasonable excuse with the courts.
Where to Find Help
If an employee suspects that they are working under an illegal employment contract then they should seek help with the matter immediately. Advice and information on illegal employment contracts can be found at Citizen's Advice offices or the Employments Rights Services.
According to government statistics £3.3 billion a year is lost in taxes due to illegal workers. Illegal employment contracts have become a serious issue and the rise in penalties to both employer and employee has reflected this. Expert advice and information should be sought if there is any suspicion of an illegal employment contract in order to avoid a hefty fine and a criminal record.
You might also like...
Hi from 1st March until 6 April 2017 I was working for one company. I got paid by cheque and never received any contract/agreement etc. Now I'm applying for different job where is full background check and unfortunately there is an issue with evidence with that particular company. I have contacted one of my previous colleague who left the company as well and she mentioned that she had to register as self employed. What should I do in this case? I am worried that can be big issue with everything.
I've been working for a company over 3 months. We have a contract stating we only get £0.20 for travel between jobs, but full pay during the job. We travel up to 2 hours per shift, which roughly works out to £2.00 per shift. I would like to know if this is legal as I read, travel during work for work should be part of your hourly salary?
Pepper
- 28-Aug-17 @ 12:51 AM
I been working in Fat Crab harrow since last April and i left on aug 24 bcuz i have no contract and i ask my boss for how many times and he keep saying next time i come i will bring it but he never does I get paid £8 per hr I just want to ask is my boss legal On my pay slip there's a tax and n.i been taking I just want to know if they paying my tax or they just keeping it the money
Drew
- 26-Aug-17 @ 12:42 PM
Johnboy - Your Question:
I've been working for this company for six months no contract given or signed or even talked about.Can l be given a verbal or written warning when in reality I'm not on any contact.
---
Our Response:
You can be given a warning as there is theoretically a contract in place due to the fact you are working for your employer by agreement. However, I suggest you approach your employer and ask for a written contract, which by law it is obliged to supply. Please see link
here
.
ContractsAndAgreements
- 24-Feb-17 @ 11:19 AM
I've been working for this company for six months no contract given or signed or even talked about .. Can l be given a verbal or written warning when in reality I'm not on any contact ..
Johnboy
- 23-Feb-17 @ 11:20 AM
My shop owner is having all of his independent barbers sign a 3 year lease this year. Is that legal? As an independent barber can I decline to sign and to be ivicted from my space?
Richard
- 17-Feb-17 @ 6:08 AM