Changing a Contract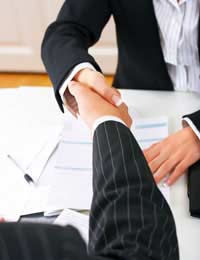 If an employer wants to make changes to an employee's employment contract then they are effectively changing the terms and conditions that were originally agreed. There are some legal considerations and guidelines to changing a contract and it is important that both employee and employer are aware of these.
Consulting Employees
Before making any changes to an employment contract the original contract should be consulted by both employer and employee. Many employers will not consult the employee but it does maintain a good working relationship to keep the employee informed at the earliest possible stage of any changes that are to take place.
If the employment company has more than 100 employees then staff will have the right to be informed and consulted on matters such as changing a contract. This rule will apply to companies with over 50 staff from April 2008. Consultations with employees can be undertaken on a one to one basis or they may take place as a staff meeting. If the company has a union organisation then they should also be consulted on the changes.
Areas of Consultation
There are a few employment areas where staff will legally need to be consulted with if change is to occur. These areas will include:
Redundancy
Health and safety issues
Transfers of business
Pension schemes
Works councils
Changes to pay rates
Changes to hours of employment
Employment Contract Terms and Conditions
There may be terms and conditions written into the employment contract that allows employers to change certain working conditions. These will usually be minor changes and will not usually be major changes to the employee's existing terms and conditions. If fundamental changes are made to the existing contract without consultation or agreement with the employee then he or she can claim breach of contract.
Breach of Contract
If an employer is changing a contract and consultations have been made but an agreement still cannot be reached, the employer should not simply make the changes. The employee can claim that the employment contract has been broken and take the matter to the civil courts or an industrial tribunal. These changes will usually be major ones towards the terms and conditions of the contract such as cutting pay rates or changing hours of work.
In some cases the employee can claim that these changes have been unfair and have forced him or her to resign. They can then claim unfair dismissal and take the matter into the legal arena and sue for damages. An employer and employee agreement should always be reached if the changes to contract are fundamental ones. This will save any conflict between the two and avoid any legal issues.
Verbal Contract Changes
In many cases an employee may not have a written contract; the employment contract may just be a verbal one. However a verbal contract of employment is a legally binding agreement and verbal changes to the contract should be agreed between employer and employee and adhered to.
Signed Employment Contracts
Once all consultations have been made and agreements reached then the amended contracts will need to be signed by the employee. If the changes apply to all staff then an identical letter will usually be sent to all explaining the changes and why they are required. The employees will then need to sign and date the letter and hand them back to managers. An employer should be aware that making exceptions for some staff regarding changes could lead to other disgruntled staff using these exceptions as a way to claim a grievance. Employers should ask that all signed and dated letters are returned within three days.
For some employees change will always be a stressful time but in most companies it is needed to stay competitive in the business market place. The best option is for employers to maintain good working relationships with employees by keeping them well informed of any change at the earliest possible time.
You might also like...
Is it legal for an employer to offer new contracts to most work colleagues but not all of them?
Tcadman
- 12-Aug-17 @ 4:56 AM
I tupe to a new employer on March 1st. I received a pay rise from my current employer on December 1st. Does my new employer have to honour this?
Mand
- 24-Feb-17 @ 11:47 AM
I m working in a hotel for 1 year now and me boss promise me a contract but I never see one also is tell me to make a invoice every month sow i gett pay . It is that legal???
razdospy
- 21-Jan-17 @ 10:34 AM
Is there a time limit to raise a grievance to a tupe transfer. My husband was employed as service manager/workshop controller, when the company sold and staff were tupe across, he was put down as workshop controller. They tried various times to reduce his wages but didn't and now they are trying to proposed redundancy. He has continued employment for 14 years, albeit only 4 years with this company. Can we make a claim reference his incorrect job role?
Bluey
- 9-Jan-17 @ 11:49 PM
I work Monday-Thursday 7.00-1600 hrs this has been my working hours and days since the past 11 years, surely this is Custom and Practice. Now my Employer wants to change this and me to work one Saturday in 6 because of operational needs, can they do this? The Saturday hours will be a 6 hour working day.
Dozy
- 27-Dec-16 @ 8:23 AM
Scott1989 - Your Question:
I am still awaiting a new contract and a pay rise after taking a deputy manager job when taking the job it was on a 3 month probation period that was almost 6 months ago. Now the partner is telling me he didn't know about me becoming deputy though he comes to the store once a week and we have manager meetings any advice on what I can do at all. Thanks
---
Our Response:
You obviously need to try and get this matter sorted out. You will need to speak directly to the person who offered you the deputy manager's job. If you have not been awarded the pay rise and/or a new contract, you will need to follow the matter up asap.
ContractsAndAgreements
- 10-Nov-16 @ 10:11 AM
I am still awaiting a new contract and a pay rise after taking a deputy manager job when taking the job it was on a 3 month probation period that was almost 6 months ago. Now the partner is telling me he didn't know about me becoming deputy though he comes to the store once a week and we have manager meetings any advice on what I can do at all.Thanks
Scott1989
- 9-Nov-16 @ 11:45 AM
I work at a GP practice where we have a new business manager. We.have until re entry always been a happy and loyal staff team. The new manager emailed members of the reception team some nine weeks ago with next years holiday allowance, Jan to Dec 2017, which are obviously not correct ie one member of staff was down from 84 to 56 hours per year. Her contract states five weeks holiday plus a bank holiday allowance. As she works 14 hours a week x 5 = 70 hours so even without pro rata BH pay her holidays have been cut. After some of the reception staff raised this the manager employed a HR company and we are to hear the outcome next week. If this is upheld it will be a change of contract for all staff (40 in total). How long does the consultation period need to be and as none of us want to lose holiday how can this be resolved? Are they going to dismiss us all and then offer employment under new terms? Thanks.
Loyalworker
- 5-Oct-16 @ 8:59 PM
i started a new job in Feb with a 3 month probationary period on the proviso that my wage would rise this was said verbally to me and the other staff are all on the higher rate.New area manager has decided that if its not on paper its worthless is this correct .Unfortunately the manager at that time is no longer with the company .
shelly
- 3-Jul-15 @ 7:20 PM
My employers have decided to close the shop I work on Sundays. I'm employed as a 3 day supervisor. They have put me in a 30 day consultation period to reduce my hours from 27 to 18. When I accepted the Job, I wasn't told that it was a Sunday supervisor post, my acceptance letter just says supervisor. They messed my contract up and it has never been replaced. Can anyone give me some advice?
zowie666
- 2-Apr-15 @ 1:43 PM
@Jerry - have you been issued with your new contract and signed it? If so, then yes.
I signed a contract with the previous company, it has now been taken over by a new company under TUPE.The new company has made changes to the pay, holidays and pay date, as I have not contested the changes and accepted the changes and have continued to work there, have I agreed to the new contract by conduct?
Jerry
- 27-Feb-15 @ 2:55 PM
My wife has worked for a store for 18 years in that time she has never worked nights (till 11pm) or weekends now she is being threatened with dismissal without redundancy if she does not agree to more flexible working hours which she cannot do because of caring for her mother. They say no matter of her home situation she will be sacked.
silverfox
- 9-Sep-14 @ 11:17 AM
@kipper your first port of call should be to call the ACAS helpline for free and impartial advice. They will provide you with clear and confidential guidance regarding employment rights and rules when changing terms and conditions of a contract.
Bell
- 6-Jun-12 @ 3:09 PM
my employer has recently closed one branch office, and relocated/merged with another, i have been employed for over 3 years, the employer is now saying that by opting to relocate, i accepted the new terms, but these have never been made clear, i now appear to be working and getting paid upto five hours a week less than i was previously getting at the old office, i did sign a paper to say that i would relocate, this had some basic information on it, payrate (same as before) etc, but no mention was made of reduced hours, and have not been offered an amendment to the original contract, despite me requesting in writing several times from head office, do i have a case for breach of contract/constructive dismissal, I can't afford big solicitors bills but may be interested in a no win, no fee scheme if anyone in the legal profession is reading this.
kipper
- 5-Jun-12 @ 2:03 PM