Tendering For a Contract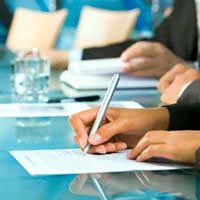 For many companies, tendering for a contract is part and parcel of business life. Landing a contract can come down to your tendering skills, and tailoring your tender to the specific needs of the customer may be the first step towards successfully gaining a contract.
Overview of a Contract Tender
At its most basic level a tender is a quote for work that you wish to undertake for a customer. The amount of detail that goes into the quote will depend on the type of contract you are pursuing. Small business work may simply need written details of the service intended and the amount of money to be paid. For larger public sector work there may be a great deal of detail needed, and more formal tender documents will be required.
Value for Money
Many small businesses make the mistake of pursuing contracts by trying to offer the cheapest quote they can. Although value for money is an issue with most businesses, the cheapest quote will not necessarily be the one that wins the contract. In most cases government work has to meet certain rules and regulations, and they will be working to a budget. They will not necessarily be looking for the cheapest quote they can find, they will be looking for the supplier who has the best experience and can offer value for money.
Listening to the Customer
When tendering for a contract the customer is king, they are the most important people. Thorough research should be undertaken before meeting prospective employers; this should take place before the informal one to one meeting. Think of it as a job interview where you can raise all of your questions regarding the work to be undertaken. An employer will be impressed that you have taken the time to get to know a little bit about their company.
Do Not Over Commit
A number one mistake for small companies is over committing to work. This is especially true of small start up businesses that will tender for and take on each and every contract they can win. Make sure that the contract is worth your time and money, even the time it takes to make out the actual tender. Over committing to work can lead to rushing jobs and not giving the customer your full attention.
Before Tendering for a Contract
The first point in tendering for a contract will be to carefully analyse the bid documents and see if you have the experience and requirements needed. Work out a timescale and money involved and then see if this contract will actually be worth your time. Will this be a one off job or is their potential for repeat business? Also assess whether this contract will fit in with your overall business plan. Will the contract be easy to fit into your business or will it leave you overstretched with too many work commitments.
Setting Down Your Tender
Each tender will be different but there are a few key points that should be used in every bid. These should include:
The bid purpose.
A summary of your experience and your qualifications.
How work will be undertaken and how the client's requirements will be achieved.
How much money will be required and a breakdown of how it will be used.
A time scale for the job or services offered.
Management of the project.
Details of value for money regarding this contract.
Never place unrealistic services or time scales into your bid or make promises that you know you will not be able to keep. Building up a good business reputation can take years to achieve and even one broken business promise can ruin years of good business faith and trust.
Tips when Tendering
In many ways a tender is like a detailed CV with short business like paragraphs. Make the tender eye catching with bullet points to break up paragraphs, and do not over elaborate details. Make sure your points are clearly defined and to the point.
Keep to the same typeface and layout throughout the document, and if needed include an index and a front cover. Tenders can be professionally bound, and in some cases the presentation will be looked on favourably. Always spell check the document and have someone else read it over for grammar and spelling mistakes.
If you were unsuccessful with a bid then make a point of asking why you were turned down. Any feedback can be used when you tender for future contracts. In the competitive business market having a professional attitude towards tendering for contracts can make all the difference to both your company's reputation and profits.
You might also like...