Intellectual Property Agreements
By: Lorna Elliott LLB (hons), Barrister - Updated: 25 Feb 2017
|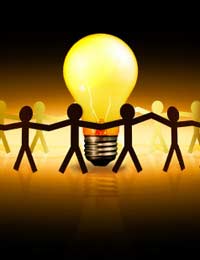 Intellectual property is a legal term that asserts rights of ownership in relation to creative endeavours. This can apply to a broad range of people such as musicians, designers, writers, architects and inventors amongst others.
Rights of ownership, authorship and rights to sell or distribute can be distinct from one another and it doesn't necessarily follow that the person who invented or created the intellectual property always retains the rights to it. Rights can be waived, assigned, licensed for a period of time or sold. For example, an inventor of a new machine could license it to a manufacturer for a period of time; a journalist could write an article while working for a newspaper, in which case he or she may not own the rights to the article; or a designer could create a logo for a client's business.
It is a sad fact that there are many stories of individual people having created something only for it to be 'copied' or used by a large corporation. The injured party, faced with the hefty cost of commercial litigation, is often unable to pursue court action because the costs are prohibitive. However, there are systems in place that are designed to minimise the risk of this happening.
Patents
When an inventor wants to ensure that his or her invention is not copied or used by anyone else, he or she can apply for a patent at the IPO (the UK Intellectual Property Office.) The whole process takes approximately two years to complete which is why you will often see 'patent pending' on products. Once a patent application has been lodged, it is published to give other inventors a chance to object to it, if it is the same or too similar to an existing patent.
A patent could protect a new pharmaceutical drug, a method for doing something differently (e.g. a new way of applying paint to walls), or an entirely novel process. An inventor may do several things once a patent is pending: seek to manufacture and sell his product/method himself, license his product to a third party, or sell all rights to someone else.
Trademarks
A trademark is a name, phrase, word, logo or symbol used by a business to distinguish itself and its products from others. Famous examples include the Nike tick, the Adidas stripes and the name 'Coca Cola.' Trademarks can be registered or unregistered, although registration provides the trademark owner with a higher degree of legal protection.
Unsurprisingly trademarks are a unique and very valuable aspect of a company's identity and as such they are fiercely protected. Unauthorised use of a trademark is called 'infringement.' Trademarks, logos and names are usually only licensed to third parties in specific circumstances, for example licensed as part of a franchise agreement.
Designs
Similar to patents, once registered a design gives the owner the exclusive right to use their product design unless they license or sell it to a third party.
Copyright
Copyright is perhaps the most well known and widely used form of protection. It covers many different types of creative work, such as books, plays, essays, poems, photographs, music, films, TV programmes and lyrics. In the UK, there is no need to register copyright. Once you have created something, you own the copyright and no one else can use it without permission. Copyright can be assigned, sold, licensed or waived.
However, if something is created in the course of someone's employment, they may not own the copyright to it (e.g. a journalist writing for a newspaper.) You may have seen statements at the beginning of books that give the author the right to assert their moral rights. This means that although the book has been sold to a publisher, the author is still entitled to claim that they wrote the work. Moral rights can however be waived, as is often the case with 'ghost writing.'
It is important to note that ideas cannot be subject to copyright protection, which provides individuals with challenges in relation to confidentiality. How can you trust someone with your idea for an invention, a storyline for a novel or a business model? The answer is to ask them to sign a non-disclosure or confidentiality agreement. For further discussion on this and a sample agreement, see the section on Confidentiality Agreements on this site.
You might also like...
I have signed a personal guarantee and a long term services agreement which had a non compete clause, the latter has now been breached by the other party, can the personal guarantee still be enforced on me, please ? Thanks .
Nizthebiz
- 25-Feb-17 @ 8:29 PM