The Law & Verbal Agreements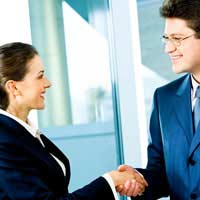 Many people are not aware that verbal agreements are in many cases as legally binding as written contracts. Verbal contracts can be upheld by a court if someone decides to breach the agreement, although without written terms and conditions it may be difficult to prove.
Conditions of a Verbal Agreement
Under law there are two basic terms that constitute a binding agreement. The verbal agreement will be binding if there was an agreement on the services to be performed and an agreement was reached on remuneration for this service. This agreement can be reached by a verbal exchange in person, via telephone or via an email.
There are certain contracts and agreements that must be made in writing and these will include the sale of property, tenancy agreements, copyright transfer, and contracts for consumer credit. In some cases, verbal agreements will not be upheld in court, not because of the lack of a written agreement but because the terms of the verbal agreement were not clarified.
Written Agreements
For any agreement concerning an exchange of services it is a wise idea to have some form of contract or written statement. The contract or statement should include the terms and conditions of the agreement and is particularly helpful if a dispute between the parties occurs.
Complete Verbal Agreements
In order for a verbal agreement to be legally binding the agreement must have reached completeness. This means that all terms and conditions have been reached and agreed regarding services and terms of pay. Agreements will be incomplete when there are still further terms and conditions to be agreed. Agreements in principle will not usually be upheld in court and will not usually be considered complete verbal agreements.
Verbal Agreements and Disputes
If either party has decided to break a contract then the matter can be taken to the legal courts. In most cases the dispute may rest on the justification of the terms of the verbal agreement. There are a few ways that a judge will try and establish the terms of the agreement. These could include investigating what actually happened in practice. This can include the services that were actually undertaken and if any money whatsoever was paid for any services.
Enforcing a Verbal Agreement
Apart from taking the matter to court there are other ways to enforce a verbal agreement. If money is owed then the matter can be passed on to a collection agency to try to enforce the matter for you. The disgruntled party can also apply pressure themselves by sending letter, emails and making telephone calls to the person who is in breach of contract. Copies of all emails and letters should be kept in case the matter does reach the law courts.
Payment before Service
One way of avoiding this sort of dispute ever occurring may be to ask for some form of payment before supplying a service. Although the customer may not always agree to this it may be an option to consider. In some cases if a person is going to breach a contract and withhold payment then the odds are they may never have intended to pay for the service in the first place. In many cases though a customer may not like the idea of paying for a service until the job is completed for fear of non completion.
Threatening court action for breach of a verbal contract may not actually help the matter at all if one party intended not to carry through on the agreement. However the law does consider complete verbal agreements as Legally Binding and the matter can be brought to the law courts for a judge to make the final decision.
You might also like...
@Barry - have you not had a pay rise since 2002? Perhaps it's time you asked for one if the car is being withdrawn. It seems rather unfair. You should give Acas a call, and check what the protocol is.
Rob
- 19-Dec-14 @ 12:06 PM
I started with my employer October 2002 and as salary was low the managing director allowed me the use of a company car to commute to work including fuel he retired approximately 6 years ago nothing changed then 2 months ago current m/d said he was withdrawing car and as nothing in my contract and only a verbal contract with previous m/d this is effectively a 15% pay cut have I any rights
Barry Heighway
- 18-Dec-14 @ 8:22 PM
@Jadey - apparently due to news reports there has been an increase in pet disputes after people become attached to the pets they are taking care of an don't wish to give them back. Of course, a good friend will keep to the arrangement and things will work out fine. A recent case used Return of Goods Act, in order to try and get their animal back through the courts. Proof of ownership and having it in writing that the dog is purely on loan and that it has not been given away, will help any future dispute you may have. However, much depends on the amount of time it takes you to sort yourself out, for instance if it is a year before you can find more suitable accommodation then your animal will become familiarised with the friend and it may be harder to ask for it to be returned.
SarahH
- 17-Dec-14 @ 11:24 AM
@kid currie - I have included a link Tribunals for Rents Disputes which should hopefully help you. Link
here
.
ContractsAndAgreements
- 16-Dec-14 @ 3:00 PM
Ihave asked a new work colleague to temporarily let my dog stay at her house as my tenant agreement states I cannot have pets in my house. I am providing for my own dog, with food supply, bedding, bowls, toys etc. and will be collecting the dog daily when I am not working to walk him. It is just somewhere for him to stay until I find a permanent solution where I can have him with me. What can I do in order to protect myself and my pet incase of a dispute.
Jadey
- 16-Dec-14 @ 1:06 AM
I pay a weekly rent of £25 been doing so for over 13 years,my initial landlord passed away, the house has no heating is draughty and has no hot water, I had to pay for a kitchen installation.My new landlord is giving me a hard time trying to get me to pay £420 per month, this would be ok if property was decent, private rental panel have been informed,flat is so cold I am going away for 3 months ,during which time they want the rent increase to start,rental panel have not yet inspected property, can courts instigate eviction as I wont pay higher rent under circumstances.
kid currie
- 15-Dec-14 @ 6:49 PM
I have the blueprints on email of the script he asked for along with the finished script that matches the blueprint and several emails in between reminding him he had promised payment to accompany the blueprints... he never replied
Polls
- 15-Dec-14 @ 5:37 PM
@polls - do you have any email evidence on the back of the verbal agreement? If you do it will add to your case if you decide to take it to the small claims court.
ContractsAndAgreements
- 15-Dec-14 @ 11:16 AM
My problem is a verbal agreement for a screenplay for a major producer. he asked for several rewrites in order to market to a major studio. On the final rewrite I agreed to do it only if I was paid standard industry fee for a rewrite. He agreed and sent me the revision notes several weeks later. I rewrote the screenplay and sent it in. He will not reply to my requests for payment and has told my agent I must 'get in line behind the poor and needy' for payment.
polls
- 12-Dec-14 @ 11:39 PM
@missj - I think you might have a hard slog getting a deposit paid back, once it has been paid. You would have to get some legal advice to see whether you would stand a chance.
Bella
- 11-Dec-14 @ 12:00 PM
I was part of a group holiday where we all paid our own deposits. Due to work commitments I could no longer go and so the holiday was cancelled and we all lost our money. The lead booker made me feel awful about the situation and so I offered to reinburse her money as a good will gesture, it was under duress because I felt bad. We then fell out and I refused to give her the money, I withdrew the goodwill gesture. She is now taking me to the small claims court as she said we had an agreement and she cancelled the holiday because I said I would refund her lost deposit. I didn't think a good will gesture was legally binding? There were no terms and conditions of this verbal agreement. Also she didn't send me a letter advising me she was taking legal action she just did it. Where do I stand?
Zobo
- 11-Dec-14 @ 10:38 AM
A friend and her partner booked a venue for their wedding and have unfortunately had to cancel. They have no contract, no receipt for deposit paid by bank transfer. They have only ever received an un signed quote with t&c's stating that a "hold the date" non refundable deposit is valid for 7 days for contracts to be signed. As they have never received a contract to sign are they entitled to a refund on deposit?
miss j
- 10-Dec-14 @ 7:16 PM
@Jools - as specified in the article in order for a verbal agreement to be legally binding the agreement must have reached completeness. This means that all terms and conditions have been reached and agreed regarding services and terms of pay. Agreements will be incomplete when there are still further terms and conditions to be agreed. Agreements in principle will not usually be upheld in court and will not usually be considered complete verbal agreements. It depends upon the back up evidence you might have as to whether you have a case.
ContractsAndAgreements
- 10-Dec-14 @ 2:42 PM
@Casey - I'm afraid we are a UK-based website and can't advise on whether you have a case in the US, due to differences in law.
ContractsAndAgreements
- 10-Dec-14 @ 1:41 PM
In August 2014, I issued a Subcontract Agreement/Agreement for Services to someone who was to provide accountancy services to one of MY clients on my firms behalf, together with my supervision and reporting back to me - all of which took place without any problems. I was informed by email that the Agreement would be signed and posted back to me in the meantime the work was accepted by the subcontractor, albeit I have never received a signed copy and took it in good faith that the T&C were acceptable.The Agreement clearly stated that ' the subcontractor agrees not to approach, nor accept an approach from, any of the Clients at any time during the agreement and for a period of 36 months after the termination of this Agreement with a view to soliciting work from such persons'. Only to be told that the Subcontractor has now actually 'taken over' that particular client (of some 15 years) from my firm!I would be most grateful for your comments as to how I am place legally to argue such unprofessional behaviour.
Jools
- 10-Dec-14 @ 9:44 AM
My other half and I have a verbal agreement to fund a checking account to pay for all our household bills. We agree to each put in an equal amount each and every month. This amount was $1800. He had a storke in April and now his daughter has POA and she recently reduce that amount to $1200. I did not want to do that, but I agree with the understanding that if unexpected bills arrived we would put the additional amount in. Now she is refuseing to put the $1200 in the account. He and I still live together in the same home andthis agreement has been in place since 1994. Is this grounds for a lawsuit?
Casey
- 9-Dec-14 @ 9:58 PM
@PaulS - It might be difficult to prove the verbal agreement. However, it might be something you could take to the small claims court, especially if you could prove that it wasn't a gift (if you have any evidence to back this up, all the better). In the first instance you could get a solicitor's letter drawn up asking for the money back of you will instigate action. Sometimes this might do the trick without having to take it further. However, if he doesn't respond then you might be able to lodge a claim.
Jack
- 3-Dec-14 @ 11:14 AM
An agency approached me offering 5 to 6 weeks work at a company. I accepted this but have only had 2 weeks work as the contract has finished. How do I stand as this was a verbal statement only.
Paul
- 2-Dec-14 @ 7:02 PM
My 24 year old daughter's previous boyfriend asked her to take out a finance agreement to pay for a new laptop, as he couldn't get credit.The arrangement was that he would then set up a direct debit to pay her back each month.You can probably guess the rest; he never got around to setting up the direct debit, and shortly afterwards they split up.So, as of today, she's still paying out each month, and by the time she's finished it will have cost her £1300.Did their original agreement constitute a verbal contract?
PaulS
- 1-Dec-14 @ 8:52 PM
@Sonny Bill - given though it sounds like everything has been carried out verbally, it's a tricky one to answer and I suggest you give Acas a call on 0300 123 1100. It will give you free advice.
ContractsAndAgreements
- 27-Nov-14 @ 1:46 PM
@Abigail - verbal agreements is a tricky area. However, according to Acas the fact that an agreement is verbal does not mean it is any less enforceable than a written one. The problem arises as it is more difficult to prove. For your own peace of mind I suggest you give Acas a call on their free helpline to discuss on 0300 123 1100.
ContractsAndAgreements
- 27-Nov-14 @ 11:48 AM
I have recently been told my services as a rugby coach are no longer needed based on players not being happy with my coaching methods and ' hear say ' on comments iv made! I was told verbally at start of the season that I had the job for the season for it to be reviewed at end of it ! Not only have I not had any verbal or written warnings of any conduct that they are not happy with but also I have not been called to sny committee meetings to discuss any issues either party may have ! Also they do not have grounds on poor performance as we are a team who has been moved up 2 divisions in one go and are sitting mid table after 6 games ! Do I have grounds to claim money owed to me for the rest of my verbal contract with them ?
Sonny Bill
- 27-Nov-14 @ 9:13 AM
Where do i stand? I was verbally told i would be put forward for promotion and told i would be given more responsibilties and extra pay. I have been told this for weeks. Then today they have given the managers postion to an old employee who went traveling and is back for a while. I feel betrayed. I want to know if i have a leg to stand on?
Abigail
- 26-Nov-14 @ 4:23 PM
@Railen - can the old lady vouch for him? The fact that she gave him her card and he was doing her shopping must be able to be proved and if he was only taking minimal amounts from her account which can be explained, then surely the court will see that he's not been taking advantage of the situation. He needs to get all the evidence he can to back himself up.
Kat
- 12-Nov-14 @ 10:35 AM
My father is about to go to court for taking care of an old woman, over the course of a few years, my dad has done her shopping for her, and has agreed to be paid a certain amount per week. my father being kind hearted never took this full amount, knowing full well she could not afford it. however this agreement was made. Hop skip jump~ now facing court charges, Objectively speaking, my father feels very strongly against pleading guilty purely because he hates the idea of being proven guilty of something he did not do wrong. the old woman's family are saying that he has been stealing this money, and has not had the authority to do so. despite having been given the card and pin number and barely taking money out for himself. Because this was a casual trusted agreement, he even put his own money forwards to pay for petrol/gas and some of the food shopping himself, just to save himself a trip, or to save her some money. the evidence that suggests something has been done wrong, is based on a few transactions that are for himself, his agreed carers allowance. he has never taken the full amount, and has just done so for a family members birthday. everything here, is impossible to prove, why is this going to court, its dangerous to take this kind of investigation into a court, very dangerous, lets say hes innocent, there is no proof of either or, so then its down to the choice of the boffins making the decisions, its dangerous because of one simple thing. little old woman who is sick versus average Joe bloggs. You see how dangerous this is? no action should be taken outside of ending the agreement. it will be an absolute mockery of the justice system if this ends with my father being guilty, not because he is or isn't, but because there is literally no tangible evidence to support it. i will be see'ing how things go in court, looking through the evidence personally, and if this does end how i think it is going to end, it is a mockery of the phrase all law stands behind. Innocent until proven guilty. Doesn't matter about how the system works, why it works, and all the usual excuses. Clear right and wrong must be upholded, punishing someone without absolute certainty, is not right.
Railen
- 11-Nov-14 @ 3:46 PM
@Lulu - if the estate agents sent the buyer your way, then you wouldn't have found that buyer if they hadn't, so I you owe the estate agents the selling fee. It might be that the contracts were automatically transferred with the business, and it would have been up to you to opt out. Given they have been marketing your house for over two years, and you have not done anything to stop them, and they sent the buyer and you obviously consented to this, you can't really imply that your house hasn't been up for sale with them. Matt.
MattK
- 11-Nov-14 @ 2:54 PM
My property was on the market with an estate agents who is no longer operating.A new company took over business from existing customers who have been extremely useless over last 2 years.I have not signed or entered into"selling agreement" with the new esate agents / company.I have now received a cash offer from a client who initially contacted the new company / estate agents but has been dealing with me personally and with my solicitors.Can you advise if I would be liable to pay the new company / estate agents a "selling fee", although as previously advised I have not signed an agreement with them.Look forward to an immediate response, many thanks.
Lulu
- 11-Nov-14 @ 12:30 PM
Three years back I got into a verbal agreement with a in law, my credit was bad so she bought a car for me the purchase was in her name I agreed to make the monthly payments and pay the insurance which I paid to her for the car, I have documented papers showing I did this. About a year and half later we had a argument which she stated it was her car, and I had to follow her rules. Keep in mind I paid the payment and insurance every month for it. After the spat me being prideful I parked it at the local grocery store and told her to come get it. Can I make her back up and pay all that I gave her for the car??
kay
- 23-Aug-14 @ 4:22 AM
Recently on a gardening job I received a call from a media company offering me a 1/4 page in a magazine. After offering me there services they said the would email me a proof copy of the advert they designed and that if I needed to make changes I could. This was a Friday and they said it would be later that day or on the Monday. No money changed hands, and I didn't hear anything for a further two weeks, when I got a phone call from them again. I told them I hadn't received any correspondence from them and they said they would resend the email. I checked that night and there was nothing. The next day I received another call from the same guy and I said I still haven't received anything and again I gave him the email address that is for my business. That was two weeks ago approx and today I received a call from them again asking for payment. I said that I haven't received anything and they said they have sent the proofs on numerous occasions and they will send them again. I then told them that I had already taken some marketing with another company and didn't require there services as I hadn't received anything from them in over four weeks even though they said it would be only 24-48hrs. Tonight I have received an email from them stating either I pay or they will take legal action. Even with this email there are no proofs of the advert that they promised. Please help as this is my new business and I thought they could help even though it was a cold call. I also now don't trust them as I really wanted to have a professional design of my company website which I feel they haven't delivered on. I am a UK business.
thegardener
- 7-Aug-14 @ 9:25 PM
I had a verbal agreement to make payments for utilizing the services of a van for work purposes with someone whom I had a signed leased Tennant agreement with; the person have subsequently decided not to renew Tennant agreement and have moved to a new location.The person left the van in the park stall which we initially shared and is stating that the verbal agreement should be still enforced.I do not wish to have any further business dealings with the person. How can I proceed? The van is leased by the person
Caribo
- 3-Aug-14 @ 12:54 PM