The Law & Verbal Agreements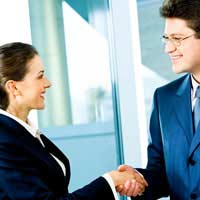 Many people are not aware that verbal agreements are in many cases as legally binding as written contracts. Verbal contracts can be upheld by a court if someone decides to breach the agreement, although without written terms and conditions it may be difficult to prove.
Conditions of a Verbal Agreement
Under law there are two basic terms that constitute a binding agreement. The verbal agreement will be binding if there was an agreement on the services to be performed and an agreement was reached on remuneration for this service. This agreement can be reached by a verbal exchange in person, via telephone or via an email.
There are certain contracts and agreements that must be made in writing and these will include the sale of property, tenancy agreements, copyright transfer, and contracts for consumer credit. In some cases, verbal agreements will not be upheld in court, not because of the lack of a written agreement but because the terms of the verbal agreement were not clarified.
Written Agreements
For any agreement concerning an exchange of services it is a wise idea to have some form of contract or written statement. The contract or statement should include the terms and conditions of the agreement and is particularly helpful if a dispute between the parties occurs.
Complete Verbal Agreements
In order for a verbal agreement to be legally binding the agreement must have reached completeness. This means that all terms and conditions have been reached and agreed regarding services and terms of pay. Agreements will be incomplete when there are still further terms and conditions to be agreed. Agreements in principle will not usually be upheld in court and will not usually be considered complete verbal agreements.
Verbal Agreements and Disputes
If either party has decided to break a contract then the matter can be taken to the legal courts. In most cases the dispute may rest on the justification of the terms of the verbal agreement. There are a few ways that a judge will try and establish the terms of the agreement. These could include investigating what actually happened in practice. This can include the services that were actually undertaken and if any money whatsoever was paid for any services.
Enforcing a Verbal Agreement
Apart from taking the matter to court there are other ways to enforce a verbal agreement. If money is owed then the matter can be passed on to a collection agency to try to enforce the matter for you. The disgruntled party can also apply pressure themselves by sending letter, emails and making telephone calls to the person who is in breach of contract. Copies of all emails and letters should be kept in case the matter does reach the law courts.
Payment before Service
One way of avoiding this sort of dispute ever occurring may be to ask for some form of payment before supplying a service. Although the customer may not always agree to this it may be an option to consider. In some cases if a person is going to breach a contract and withhold payment then the odds are they may never have intended to pay for the service in the first place. In many cases though a customer may not like the idea of paying for a service until the job is completed for fear of non completion.
Threatening court action for breach of a verbal contract may not actually help the matter at all if one party intended not to carry through on the agreement. However the law does consider complete verbal agreements as Legally Binding and the matter can be brought to the law courts for a judge to make the final decision.
You might also like...
we signed a contract whichappointed an auction house to sell a property. Withina week of the contract it was clear they bordered on incompetent. we went to there offices an verbally cancelled to contract to sell the property,this was witnessed. Some three years later we sold the property using another estate agent. The auction house says a fee is due to them because we did not cancel in writing there contract ,although they agree we verbally changed there contact but they state the written document overrides this. Is this true?
o no!
- 5-Jul-15 @ 5:14 AM
What is the penalty for tampering with a Deed of Assignment having witnessed and signed in court under the British Civl Law case?
@dk - I don't think you have any recourse here, especially as the person selling sold the car themselves. You would never be able to prove the car was promised to you.
Helen
- 2-Jul-15 @ 2:00 PM
@Zubair - I have included a CAB link
here
which should help you further. You should have been issued with a cooling off period, once any agreement was thought to have be made. If any of the stages do not apply to you in this article, it will give you information on what to do if you need more help or advice.
ContractsAndAgreements
- 1-Jul-15 @ 10:49 AM
A builder gave me a quote for a exstention single story to my house we agreed on his quote but he couldn't do the work for 6 months I agreed to wait . 2 weeks before the job was to start he came to say he couldn't do it at that price we agreed on a new price shook hands amd he was to start in two weeks as agreed . The day before work was to commence he text me to say he wouldn't be doing the job as he had other work on and he felt it was to far to travel . Is there such thing as a verble contract in this case and where do I stand legally as we've wasted so much time with him going thru the job is there any way we can legally make him do the job as agreed or some kind of compensation . Your proberbley wondering why we would still want to use him but he has dome my brothers house and a friends house and made a very good job at a very reasonable prise it's hard to find good builders .
Phil
- 30-Jun-15 @ 12:28 AM
Is a verbal agreement binding when the person selling doesn't own the item being sold. It was a car being left in a will but the car was sold before person died. The person who was to inherit the car made a verbal agreement to sell but is this binding as the owner of the car was still alive
Hi, i bought a new takeway business in England uk.An energy company rang to sell its services for electricity supply. I asked them to explain their packages.the representative went through differentterms and conditions during the discussion.I mentioned to him in the beginning that i am not buying any contract untill i get something in written or by email to satisfy myself. They took my conversation as an agreement and took over my contract from previous supplier and even i didn't know that.I chose a cheap supplier in next few days but this company having objection to transfer my electricity to the supplier of my choice. .the cheaper one. The company i spoke on phone only , using a partof telephonic conversation as a proof of contract agreement and sent me a short audio clip as a proof of contract agreement while they hiding the rest of conversation. Your advice in this regard would be much more appreciated. Regards zubair
Zubair
- 28-Jun-15 @ 12:42 PM
If a written law conflicts within its own articles what principle would a judge use to reach his decision. Article fifteen of the law states that the committee shall be in force for 12 months and within 2 months must hold election. Article 40 says they are entitled to stay until elections are held. I believe the decision should be based on art. 15 because it constricts any committee to that time period otherwise they would remain until death.
Standeman
- 27-Jun-15 @ 1:27 PM
@tinkerbell - You really should have had an agreement drawn up from your solicitor from the start, especially if you have been handing over money. Is there nothing at all in writing? Even emails? You would have to be able to prove that the money was being given for the purchase. However, we would hope that the brother and sister would naturally return the money you paid, if they had renaged on the promise. You don't say what theri stance is, so it is difficult to advise further. You may have to seek some added legal advice.
ContractsAndAgreements
- 25-Jun-15 @ 10:16 AM
@Young - I'm afraid we can't advise here as we only deal with UK-based law and have no knowledge of the workplace law outside this country.
ContractsAndAgreements
- 24-Jun-15 @ 12:24 PM
I have been making payments to a brother and sister for 10 acres to purchase the property that is next to my 6 acres we did not have a written agreement. However on the check I had written, I put 10 acres @ 5 an acre. They have been cashing my check and now the sister tells me to stop paying they are not going to sell. Can I take them to court for breach of contract to keep the property that have been paying for I have made 4 payments.
tinkerbell
- 23-Jun-15 @ 3:41 AM
Is a verbal agreement to set up a business partnership between three people legally binding even though it was dissolved before any business actually took part
tonyb087
- 22-Jun-15 @ 9:23 PM
Thank you for your reaction. I still work for the same (International) Company but in a new role based in Singapore. If I am unable to involve ACAS what action would you suggest I take? Thank you.
Young
- 22-Jun-15 @ 2:39 AM
@Young - if you are based in the UK, you would have to give ACAS a call in order to speak with someone directly and see what your rights are.
ContractsAndAgreements
- 10-Jun-15 @ 2:36 PM
Does an employer have the right to change the terms of a signed tantieme agreement (to the employee's disadvantage) unilaterally and without informing the employee? On a retro-active basis without any prior indication? The letter changing the terms of my bonus agreement is date 22nd August 2014 and states to be "effective from 1st January 2014". This amendment letter was not brought to my attention until 1st June 2015 when I raised questions on the payment received.My employer claims that because the agreement is not a contract he is therefore able to make any changes without notifying me or seeking my approval. Is this correct? Thank you.
Young
- 9-Jun-15 @ 5:13 AM
Sir actually we have gave our house to construct on collaboration. at the moment when we signed the agreement there were lots of things( written in agreement)which builder had promised to fulfil but now when our apartment is almost constructed builder's denying to accept all those terms n conditions what kind of action can take in such matter?
Nothing
- 4-Jun-15 @ 8:52 AM
@Alipat - you would probably have to speak to someone directly about this, such as the Citizens Advice Bureau as it depends how far he has got with the arrangements etc.
ContractsAndAgreements
- 2-Jun-15 @ 10:16 AM
@slots - Yes, the sub-contractor can take you to court, as can you take the funder for not paying you, if that is the case. The fact the sub-contractor did the work is proof enough that there was an agreement to be paid. As you know, no one wants to work for free, meaning the sub-contractor has every right to take it through the courts.
Anna
- 1-Jun-15 @ 12:16 PM
After 29 years of marriage e divorced.It happened so fast he moved to get papers fast.I was mentally stressed, and didn't ask for money he borrowed thru the years and promised to pay me back this was a verbal aggrement, because he was my husband there was no contract written I trusted him . Now he refuses to pay me back . Is there anything I can do.
Mickey
- 30-May-15 @ 8:01 PM
I have taken my iPad to be fixed and the owner gave me a deal of £39.99 because he was late to his appointment... It wasn't written only stated and we agreed... Now he's saying he doesn't have the part and it's gonna be £45-£50... Where do I stand on this... Oh he also said it would be done by today and it isn't
ash
- 30-May-15 @ 3:03 PM
My Dad purchased my Nans council house 20 years ago, he did this so my Nan could stay there until she chose not to, or she died.The house remained in my Nans name (so she felt secure) and it was verbally agreed between her and my Dad that she would leave the house in her will to my Dad.She did this and had it Put in her will to do so.All the family were aware of the verbal agreement. She died two weeks ago.My Dad found out today that she changed her will to only leave him half the house.The rest is to be shared between two out out of her six grandchildren. Where does Dad stand?
Hels
- 30-May-15 @ 11:00 AM
My father was in a hospice when his social worker came and discussed him moving to a care home, it is said he agreed verbally to pay for the home. He had just been told his cancer had spread and he would never return to his own home. He was a very prideful man and would agree to this even if he did not fully understand the arrangements, he also told her he was in charge of his finances, this was not entirely true as at the time I was dealing with his bills including paying rent on his house, all he did was sign the cheques.No contract was signed and no financial assessment was made.The Council has admitted this and lowered the bill to compensate!I would like to know if his verbal agreement is binding in law and will we have to pay it?
Alipat
- 29-May-15 @ 12:39 AM
my limited company used a sub contractor for several installations, we had a verbal agreement: they would be paid when we were paid by the specific funder. We had a good relationship for around 5 months, the day funds landed in our account, the sub contractor would be paid the following day. Through no fault of our own, we were not paid by a funder for a batch of installs, which in turn meant we could not pay the sub contractor. They are now taking legal action against my company via a debt collector. Is the verbal agreement legally binding? We have ceased trading, and I am considering liquidation, as I simply do not have the funds to pay creditors. Thank you.
slots
- 28-May-15 @ 7:58 AM
@bhoyo67 - I'm afraid it all sounds a little bit complex and without a syndicate agreement, issues such as this can't really be proved. A syndicate agreement would show the names of the participants; how much they contribute, and the percentage of winnings they receive, plus games played. I think the only thing you can do is find out whether the woman was handing over the money and giving the numbers on behalf of your friend. If she wasn't, then she would have to take it up from there with the organisation of the syndicate.
ContractsAndAgreements
- 27-May-15 @ 12:34 PM
@Scotman69 - If you can't agree between you, you can use MCOL, which is Money Claim Online, see link
here
.However, you will have to prove that thecontract was not a gift, but a loan, which you should be able to if she had started paying you back and then stopped. Before you take these steps, you might want to warn her that you are going to do this and that there will be court fees involved that she will be subjected to. It might encourage her to start paying again if she realises you are being serious. I hope this helps.
ContractsAndAgreements
- 26-May-15 @ 12:13 PM
@jolson - Given that you are married, then the house as an asset would be legally half yours. However, there may be exceptions, because she bought this before you married the courts may look at it as solely her possession, unless of course you can prove that you gave her the money and you would have to try and prove specifically what that money was for. You don't say whether there will be any children involved in the divorce, as this would also make a difference regarding distribution of the estate, so some independent legal advice would be beneficial to you here. I hope this helps.
ContractsAndAgreements
- 26-May-15 @ 10:48 AM
I am making an enquiry for a neighbour of mine who I speak to on a regular basis and happen to mention this to me about a couple of weeks ago, Sharon used to get a lift to work from her then "So Called Friend" Sharon likes to have bet on various things and like a lot of people used to do the numbers Draw at one of the local Clubs, However the problem is that Sharon gave the money to the "So Called Friend" every week to put her numbers on, Although Sharon used to get a lift to work the two didn't really socialise together, Anyway One of Sharon's Friends had texted her the numbers while her and her man were on a night out, and Sharon was convinced the numbers were hers however, It transpires that the next day Sharon got a phone call from""The Friend" the day after the Draw but missed the call, Sharon then rang her back later on that day to ask what she was phoning about, Hoping she was going to say Sharon you have won the Numbers Draw which stood at £5,500 and she had said to Sharon that she was just phoning her to let her know that "SHE HAD NOT WON THE NUMBERS DRAW"Why on earth would someone phone you to tell you that you "Had Lost? needless to say when Sharon got a Lift off this "So Called Friend" on the Monday the first thing she says to Sharon when she got in the car was (or something similar to) I won the Numbers Draw on (Friday or Saturday) Night, (I am not sure which day) and Sharon had said to her that they were her numbers (can get you a copy of the numbers I don't know them off hand) to which Sharon said what made you pick those 4 numbers to which she said Oh they are Birthdays (or similar like Anniversaries Etc) which clearly they are not, Sharon has also said that the same woman who works in the same place as Sharon can now not even look her in the eye, and the whole of the Factory are also aware of it, Can or should Sharon take her to court? what are her chances of Winning, and could she phone this woman up and tape the phone call and ask her to "Name the Numbers and whose Birthdays they are) there is clearly a phone record of the other woman phone number being on Sharon's Bill, I am not 100% sure whether there actually was any deal or verbal agreement or not but clearly everyone in the Factory where Sharon worked would be prepared to testify that Sharon gave her the money every week without fail to put her numbers on, and she has clearly been cheated out of It, I believe there is a place on the back of the ticket to put your name on, well obviously the other woman done that "After" she realised It had won, as Sharon was giving her the money to put "HER NUMBERS ON IN GOOD FAITH" a Phrase which I believe is well acknowledged by a court of Law, also Sharon had asked this woman who cheated her if she would go on the Jeremy Kyle show and take a lie detector test, she told Sharon she would but had apparently mentioned to someone else who knows both of them that she has no Intention of taking a Lie detector test.What do you think?
bhoyo67
- 24-May-15 @ 7:48 PM
Hi there'sI'vetake out a 02 Refreshcontact for my sistercoz she can't getonebut it'sundermy nameI'm payforit viamy bankeachmonth. 17thJune 2014 I'vetakenit outshe keepsup thepaymentto mein tillNovember 20th2014 fromthatdateI don'treceiveanymorepaymentsfrom herwhat's of ever.She ownmeabout£249.50 that'sfromDecembertillnown it's2yrscontact I Donknowwhatto do aboutthiscozsheusedherkids to don't payup . WhatrightI'vegot on thisproblemif she don'tpay up?Thanks
Scotman69
- 23-May-15 @ 3:28 PM
I married 2 and half years ago,and moved in to my wife's house she had no money and said she wanted 50% of what I had for her own personel freedom, so I gave her £44.000 with one stipalation that she put my name on the house deeds so we both agreed the money went into her bank, but she never put my name on the house deeds,every two months I would ask when she was going to do it,each time I got nasty reply, I'm doing it. then sudenly she asked for a divorce. can you please give advise.
jolson
- 23-May-15 @ 9:55 AM
@Aryhian - have you been encouraged to apply for the job. It may be that through law the job has to be advertised, but if this is the case there is no reason why you can't apply.
Cass
- 22-May-15 @ 10:58 AM