The Law & Verbal Agreements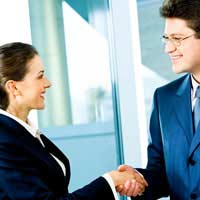 Many people are not aware that verbal agreements are in many cases as legally binding as written contracts. Verbal contracts can be upheld by a court if someone decides to breach the agreement, although without written terms and conditions it may be difficult to prove.
Conditions of a Verbal Agreement
Under law there are two basic terms that constitute a binding agreement. The verbal agreement will be binding if there was an agreement on the services to be performed and an agreement was reached on remuneration for this service. This agreement can be reached by a verbal exchange in person, via telephone or via an email.
There are certain contracts and agreements that must be made in writing and these will include the sale of property, tenancy agreements, copyright transfer, and contracts for consumer credit. In some cases, verbal agreements will not be upheld in court, not because of the lack of a written agreement but because the terms of the verbal agreement were not clarified.
Written Agreements
For any agreement concerning an exchange of services it is a wise idea to have some form of contract or written statement. The contract or statement should include the terms and conditions of the agreement and is particularly helpful if a dispute between the parties occurs.
Complete Verbal Agreements
In order for a verbal agreement to be legally binding the agreement must have reached completeness. This means that all terms and conditions have been reached and agreed regarding services and terms of pay. Agreements will be incomplete when there are still further terms and conditions to be agreed. Agreements in principle will not usually be upheld in court and will not usually be considered complete verbal agreements.
Verbal Agreements and Disputes
If either party has decided to break a contract then the matter can be taken to the legal courts. In most cases the dispute may rest on the justification of the terms of the verbal agreement. There are a few ways that a judge will try and establish the terms of the agreement. These could include investigating what actually happened in practice. This can include the services that were actually undertaken and if any money whatsoever was paid for any services.
Enforcing a Verbal Agreement
Apart from taking the matter to court there are other ways to enforce a verbal agreement. If money is owed then the matter can be passed on to a collection agency to try to enforce the matter for you. The disgruntled party can also apply pressure themselves by sending letter, emails and making telephone calls to the person who is in breach of contract. Copies of all emails and letters should be kept in case the matter does reach the law courts.
Payment before Service
One way of avoiding this sort of dispute ever occurring may be to ask for some form of payment before supplying a service. Although the customer may not always agree to this it may be an option to consider. In some cases if a person is going to breach a contract and withhold payment then the odds are they may never have intended to pay for the service in the first place. In many cases though a customer may not like the idea of paying for a service until the job is completed for fear of non completion.
Threatening court action for breach of a verbal contract may not actually help the matter at all if one party intended not to carry through on the agreement. However the law does consider complete verbal agreements as Legally Binding and the matter can be brought to the law courts for a judge to make the final decision.
You might also like...
Would be nice to see the answers to these questions. Regards Julie
I BOUGHT AN APARTMENT IN A NEW BUILD AND WAS TOLD BY THE SALES STAFF THE LIFT WOULD BE INSTALLED WHEN THE LAST APARTMENT WAS SOLD . WHEN THIS DIDN'T HAPPEN I SPOKE TO THE OTHER OWNERS AND 8 OUT OF 16 OR HALF THE OWNERS HAD BEEN TOLD THE SAME . THE LIFT SHAFT IS IN AND ALL THE WIRING AND IS CLEARLY SHOWN ON OUR LEASE . DO THE BUILDER'S HAVE TO LEGALLY UPHOLD THE VERBAL COMMUNICATION?
pinky
- 3-Apr-14 @ 2:36 PM
Had a verbal aggrement to have some land for doing labour the owner has now decided to bill us for 6 years back rent even tho on his bill he as put in writing the labour has been done we now do not have the land but a bill what do we do.
fred
- 2-Apr-14 @ 11:32 AM
My sister and aunty are joint executors of my dad's estate, there has been numerous disagreements and delays due to my sister arranging my dad to write a new will 2 months before his death. This will was never signed, also my dad had a large shareholdingigh Court for an order for specific performance in a family business which my sister was also a shareholder. My sister and dad took advice from their accountants on how my dad could retire without including me in discussions, my sister says she has minutes of the meetings. There were to be 3 payments made to my dad from the company as dividends but he only took 2 of these payments because he died. Also I did not see the unsigned will until my dad died. My sister wanted me to agree to unsigned will stating the company and business property to go to her whilst I took my dad's house and the cash was to be shared. Upon my dad's death my sister appointed will making company to handle my dad's estate without me, I tried to talk to her constantly and stated the will was unsigned and not valid. I found my dad's old will which stated my aunty and sister were executors and a fifty split between my sister and I. Everything was valued including 80% shares in the company, my sister wouldn't agree to the estate being split or agree to any negotiations, for her to have the business and me to have a monetary equivalent. After 5 months she has now threatened my aunty to take her to court as my sister has a verbal agreement with my dad to take my dad's shares. A lot of inheritance tax was paid out because of the value of shares, I wanted to know where this leaves me. The business accountants are handling the estate, where do I stand legally and what would the court say, please help I was told by the accountants I was entitled to half the shares now I'm being told no I'm not, please could you shed some light on this matter. Many thanks
Cheryl
- 16-Feb-14 @ 8:25 PM
I was informed that I would not be charged for indirect contact between my son and his mother buy my legal representative, but received a large bill for the process, 8 months later. Her declaration that as it was court ordered it will not cost me anything, was made in front of my sister and a family friend. I have now received court paperwork due to having not paid the amount, and further costs applied. A senior partner in the firm has informed me that there is nothing in writing I must pay the full amount.
Anthony
- 7-Feb-14 @ 12:16 PM
In February of this year, I entered into a verbal contract with Century Link to provide a special promotion they offered (both on line and via phone) for a fixed price for three years.Every month since then my bill from this company has been at least twice the agreed upon price.Every month, upon receipt of my bill, I called them and each time until two months ago, they agreed they needed to make billing adjustments to my account to reflect the special promotion price and to continue to pay the adjusted amount (which they provided me).Two months ago I was told there is nothing more they can do and the offering was off.Each phone call to the customer service number indicated the conversation was being recorded and when I challenged them to refer to the recordings I was told they no longer had them.I told them this was not acceptable, I have been keeping my end of the contract and they have not.I asked for their legal dept. and was told I could not speak with them....only my lawyer could.I then contacted a lawyer he said I definitely had a valid issue for breach of verbal contract, however today I received a denial letter stating my case was too time consuming for them and probably would cost me more in legal fees than I would recoup from the loss.I have documented each and every conversation I have had with this company, have a phone recording to support the promotion offered from one of the providers, and have photographs from the web-site offering.The web site does have a contact place for Ethics and Compliance with an e-mail address.I would appreciate some direction as to how to pro0ceed from here.Thank you
bognvly
- 22-Nov-13 @ 10:17 PM
I recently found myself in debt to a debt collection agency due to an old unpaid speed fine, which unknown to my knowledge slowly accumulated over the recent years. I came to an agreement with Debt Collection Agency about repaying the debt, however, I was made redundant from my job therefore, I was unable to keep up with the payments. Further to this, the debt collection agency decided to send bailiffs to my property in reference to the debt and upon my explanation of the scenario, the bailiffs decided to portray some compassion and pass the debt back to the debt collection agency. Thereafter, I had a conversation with a lady from the debt collection agency, advising that as they have received the case back from the bailiffs, they will remove the bailiff fee of which she clarified this on several occasions, however, I have received numerous phone calls from the debt collection agency chasing their debt along with the bailiff fee. I keep reiterating to them that as the lady confirmed that the fee would be removed and the calls are being recorded, by law they are obligated to follow through. Please could you advise whether I am correct in this matter and what I should do next.
DRAMA
- 14-Nov-13 @ 6:35 PM
I was promised 1 acre of land 15 yrs (of which I have resided since the agreement) ago by my mother and sister in return for assistance in the upkeep of their home and property. Recently (over the past few years) my sister has left my 74 year old mother to all of the chores in and around the home, I took it upon myself to defend my aging mother by reminding my sister of her obligations in their home and that she is sending my mother to an early grave through added work and stress. She has since told me that she will not keep her agreement (my mother however is keeping the agreement but they both need to sign the deed) on the land that I was promised. What are my options
I am in the process of buying a house. I am not using a solicitor and prior to the sellers instructing a solicitor, the seller offered to vacate the property to allow me to store my furniture etc. The agreement was that she,(sole mortgagee) a longer with her husband would move their belongings into storage on Tuesday 29th Oct as the exchange of contracts on the property that I have sold was destine for Friday Nov 1st or at the latest some time in the following week. In light of this I offered the sum of £5000.00 as reassurance that the sale would go ahead. The money was paid Thursday 17th Oct. Following receiving the fund, the seller suggested that they would not be using a solicitor. I did suggest that as they had a mortgage it might not be possible to achieve the sale without a third party. I also requested they take an indemnity against the lack of building regs for the installation of a fixed stairs to the attic space. The seller's husband showed quite 'silly' behaviour at this request. He stamped out of the room. I then received a telephone call from the seller saying that they had changed their plans and would not be leaving until Friday 1st, that she had put the removal and storage company on hold. I felt a little annoyed and informed the seller that she was holding £5000.00 of my money based on the arrangement that they would allow me access to store furniture on Friday 1st Nov. On Thursday 31st I received a text saying that the washing machine had broken down, that she was stressed but would be out by 12 noon. Friday she rang to say that they would be out by 2 and that she would ring me to have a key. At around 3.50 I had to contact her solicitor as neither the seller or her husband were answering calls form either myself or my husband. As we were moving some of my belongings to my Mum's which is in the same street, we were aware that the house was empty and that they were not there. 15 mins later the seller rang to say that she had left her phone in the car and that her husband wasn't answering as he didn't recognise the numbers. She said that she would go straight down with a key, I remained at my property as I was very annoyed at this time. On handing the key to my husband she asked that when we were finished that I ring her to return the key. I did not do this as I feel that I should hold a key in light of almost all of my belongings are in the property and that they have not kept their word to date. Since the Monday, I have be constantly bombarded with telephone calls, one of which was quite frantic. The seller's solicitor had miss inform her that the funds to purchase the house were not available. She also now seems to regret moving out and is insinuating that I rushed them. I would like to reiterate that it was at her suggestion that they left the property. I spoke to her solicitor and requested that he reassure her and that she no longer contacts me, that I would prefer to deal with him. I informed him that I was unhappy w
FED UP
- 7-Nov-13 @ 8:57 AM
My brother, mom and I made a verbal agreement last year. I bought a house 4 years ago. I am disabled. I needed a roof and other repairs. My mom was on disability also. We could not get refinanced because our income was to low for the amount of the loan. So, we asked my brother to put the house in his name and get the money needed for repairs. He said ok as long as I would make the payments. We all agreed. My mom died Aug. 18 2013. On Sunday Oct. 6th 2013 my brother put my house on the market to sell. He will not talk to me about it. I am not late or owe him. He is stealing my home. I have 10 family members as witnesses. Is this legal?
HURT
- 9-Oct-13 @ 2:19 PM
I am wondering where i can find books on verbal contracts and actuall cases on them?
peace
- 6-Sep-13 @ 4:04 PM
I have verbally entered a tenancy agreement with a owner of a house. He asked me for a 100 Dollar per two weeks and i accepted the offer and the contract was binding. I moved my family into the new home. After two weeks i wanted to pay him the tenant fee and he told me that 100 dollar for a night. He changed his mind again without me knowing.I witheld the payment because we did agree for 100 dollars per two weeks and not per night. What would be the best advice
Zhon Offmahn
- 20-Jul-13 @ 8:29 AM
I gave my property keys to a letting agent on 31st October 2012, so that they could progress with advertising property for tenants as I was relocating to Australia temporarily.Some work was required to fix a spa pump, which I initiated and arranged for the engineer to liaise with the letting agent for repairs to take place. Last week (June 2013) I was advised by the letting agent that the tenants were unable to use the spa as work was incomplete.I contacted the repair company and they informed me that they had informed the letting agent the work was incomplete on the day following the visit to the property as they had the keys in order to be able to re-arrange a further time to complete the work, but the letting agent did not advise me of the situation, nor did the engineer directly, of this situation.I left UK on 20th January 2013 and was still resident in the UK to have been liaised with to have rectified the problem. I did not sign a contract with the letting agent until 4/12/12. Please could you advise if the Letting Agent retained responsibility for liaising with me during the period from 1st November when they had the keys/access to my property, even if they did not initiate the work to be completed?.Is there any legislation or expectations of responsibility during this period and subsequently, as they are refusing to be involved with any further instructions to monitor repair of the spa, despite us paying them for a full management of the property, your response would be appreciated, kind regards, jackie
Jax
- 13-Jun-13 @ 3:41 AM
Hi. Saw a motorcycle on eBay, got in touch with the seller, agreed on a price, verbally agreed the full price and that I would pay cash on collection, I asked if he wanted a deposit he said no just Payment in full on collection, day before I was due to drive 200 miles to collect he rang and advised he had sold it to someone else, is there anything I can do.
Ley2308
- 24-May-13 @ 12:58 PM
Had conversation on phone to bank regarding a refund of ppi, they were asking that i paid a loan off I owe with. The money once the ppi company took there share we worked it out to be 900 which was 75 % off debt , since call ive had other creditors through my debt management plan to pay so am only have 650 togive to bank.. can they take action against me due to lower amount I orignally said I could pay ?
rolymole
- 29-Apr-13 @ 9:13 PM
Recently agreed to purchase a horse from a friend. I informed them that I did not have the money to pay for the horse in full until I had sorted some financial matters. They said it was fine and would I take the horse anyway as they could no longer afford to keep it. I did so and paid a deposit. Within a week of arriving at my yard the horse displayed extreme behaviour that I had never witnessed before. Within 8 weeks the horse had severely injured me twice which resulted in surgery and 12 weeks out of action with fractured vertebra. The man refused point blank to take the horse back and is now seeking balance of monies through the court. I have explained to him that I am not willing to pay the outstanding balance and have asked him again to collect the horse and return my deposit based on the fact that the horse was not fit for the purpose in which I agreed to buy it. Where do I stand ?
lahlah
- 22-Apr-13 @ 12:22 PM
Hi, I was promoted to the position of a director in my company last year. And during the discussion for promotion at that time I was told that I would be put on a bonus plan following my promotion; this was a verbal offer. Moreover my predecessors in this position all were on a bonus plan. Now that I have been promoted they are not willing to talk about the bonus. And they say that it is not approved by the executive management. Is this a breach of contract by the employer - although the bonus offer was made verbally and not in writing? Thank you
Charliebrown
- 2-Apr-13 @ 11:49 AM
I took a straycat to the vet. A friend agreed verbally to pay for his care and spoke to the vet personally on the phone, visited the vet and hospital.I had stated that I was not in a position to pay.However I had to sign paperwork for them to Hospitalize the cat and this of couse also mentioned payment.My friend gave his address for the account and his card but now does not want to pay the full bill and they haveforwarded it to me.The cat died.
Dee
- 16-Mar-13 @ 11:50 AM
i would like to know if i have a leg to stand on, many of those now famous from the music tv and movie industry over the last 15 yrs have used my every ideaincluding govenment officials police and the medical proffesion games manufacturers and so on many with witnesses how would i go about taking them to court bearing in mind i have been left pnenyless by thefts and their denials of my very existance
the man in black
- 2-Mar-13 @ 5:54 AM
I have a tribunal hearing this month for a breach of a verbal contract regarding an offer of employment. The respondent is denying any of this, but I have emails from her down to arrangments of salary, is this enough to win my case, regarding the law.?? are there any stated cases that have won their case in same situation as mine.
Julie B.
- 15-Feb-13 @ 11:04 AM
If you and another party make a verbal agreement and the work is complete and the other refuse to pay what can I do?
bigdaddy
- 4-Feb-13 @ 12:59 PM
Hi I have been using a community hall for five years as a regular booking everyday 8-6 weekdays The school have given four weeks notice to vacate the premises as they require the room book I can not remember signing any contract but do I have any rights? I am really only looking for a six week period to give parents proper notice is there any law protecting me ?
Box1
- 3-Feb-13 @ 9:20 AM
I got a mobile contract out for a friend of mine and she was paying the bills. She then stopped and now I have a debt collection agency chasing me for the money. Now I have to pay them because the contracts in my name which has also resulted in me getting a bad credit rating but also having problems getting any money from my friend, what action could I take against her. Please help
Sharon
- 25-Jan-13 @ 8:38 PM
Judge place a verbal order on pobate matter all paper work of oppsing party has expried and no wittin order has been singed or filed in court what is my next step?
none
- 15-Jan-13 @ 2:39 PM
I recently entered into a verbal agreement with my former partner regarding the transfer of the property deeds to her when our relationship broke down. We agreed that I would take £15,000 cash and that my remaining share of my equity would be used to provide a family agreement to cover the maintenance for my son until he was 19 years old, in place of any CSA involvement. I signed over the property to her but on his 16th birthday she went to the CSA and made a claim. She always denied this and said it was their error. CSA have confirmed the calls since. Both my daughter and my son are witness to the agreement that was made between us. Is there anything I can do to here. The transfer of the property was not witnessed by an independent person as the document called for. It puts me in the wrong too but needs must.
PAD
- 30-Sep-12 @ 9:59 AM
my sister and i lived in the same house and she took a mobile phone contract in myname. she were paying the direct debits from her personal account. after moving from house she decided not to pay the bills anymore. please help as debt recovery people are chasingmoney from me. please advise
gemini
- 24-Sep-12 @ 8:44 PM
Hi, I had a verbal agreement regarding employment which was followed with minutes of the meeting from myself to the other person.There were several emails but all from me to him. Now the other person is denying agreement as he did not agree in writing although several items in the agreement has been delivered. My question is: Is the minutes of the meeting and emails ( though unidirectional) admissible in court?
Krish
- 17-Sep-12 @ 7:31 AM
my daughter has borrowed 180000 from a bank . she is a medical student and has 1.5 yrs left to be a doctor . she went back to get the rest of the money she needed---money she told the bank she would need before her course was over . they loaned her 180000 and told her she will have no problem to get rest . well now they have said they will not give her the balance although she has accounted for every cent spent and has passed all her exams .. she had a co-signer for this money(a line of credit) . the original bank manager has been moved and the new one has informed us that a risk management official has said the risk is to high and she will not get the money . they said the line of credit---180000--will be placed for collection . my daughter is on the verge of a breakdown because of this at the age of 25 . she has studied so hard an done so well . what can i do . ps--the balance my daughter was to get was 70000. thank you--dad .
groundhog
- 26-Aug-12 @ 3:40 AM
Hi, We purchased a used car 2011 from the local Toyota Dealership, the saleman talked us into signing the deal that evening, by offering a reasonable amount for our old care. At the time we did say we preferred one with a fitted sat nav system. He did not have one on stock so sold us our spec but withour sat nav, advising we could buy a stand alone unit. Next day I researched the internet and found a car that had a sat nav, a lot cheaper than ours by £1500, at another Toyata dealership. I asked them to source this care for us, he advised that he could not do this, as they can only access there own holding sites. He agreed to hard wire a stand alone sat nav in the car, which we brought and left with the dealers. Prices were comparable to other dealers. When we went to collect the car two weeks later, we were advised the sat nav was not completed as it would void our warranty. We refused to collect the car that day. Why were we not informed they could not do this earlier? The saleman then advised whoever told us this was a new rep, he would arrange for a sat nav to be properly fitted by exchange from another car, which he would expect to come in within two weeks. He first said we should pay about £500 towards fitting, then when I advised that we had been overpaid for the vehicle compared to the one we had seen up north and that also we had been messed about he agreed to fit it free of charge and shook hands to this effect. The saleman then moved to another branch, the new sales manager advised me this could not be done now, they can either hard wire a sat nav in or we could expect to pay £1100 for a factory fitted nav in the car. I have written to them advising that as I had been promised fitting free of charge, they should honour this agreement. I did not get anything in writing, apart from another rep being aware of the conversations with our sales rep. Can wetake this further?
Issy786
- 21-Aug-12 @ 10:34 PM
I paid a deposit for a flat through an agency, they asked for 6months upfront I said I wasnt keen on this but I could sign a personal guarantee or my dad could, even though 2 days wage covered a whole months rent and I had my own property and the income from that alone covered the rent.The agency agreed it was fine so I paid them a deposit, the landlord agreed and wanted to meet me, he met me and shook my hand saying I could have it and pick the keys up monday, this was on a Friday. I went out on sat and spent money on things for the flat and monday morning I got an email saying I can not have it as the landlord has changed his mind. I am now out of pocket. is a verbal agreement not worth anything?
simon
- 20-Aug-12 @ 6:13 PM