The Law & Verbal Agreements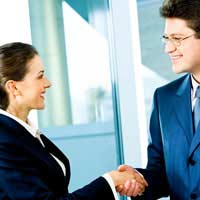 Many people are not aware that verbal agreements are in many cases as legally binding as written contracts. Verbal contracts can be upheld by a court if someone decides to breach the agreement, although without written terms and conditions it may be difficult to prove.
Conditions of a Verbal Agreement
Under law there are two basic terms that constitute a binding agreement. The verbal agreement will be binding if there was an agreement on the services to be performed and an agreement was reached on remuneration for this service. This agreement can be reached by a verbal exchange in person, via telephone or via an email.
There are certain contracts and agreements that must be made in writing and these will include the sale of property, tenancy agreements, copyright transfer, and contracts for consumer credit. In some cases, verbal agreements will not be upheld in court, not because of the lack of a written agreement but because the terms of the verbal agreement were not clarified.
Written Agreements
For any agreement concerning an exchange of services it is a wise idea to have some form of contract or written statement. The contract or statement should include the terms and conditions of the agreement and is particularly helpful if a dispute between the parties occurs.
Complete Verbal Agreements
In order for a verbal agreement to be legally binding the agreement must have reached completeness. This means that all terms and conditions have been reached and agreed regarding services and terms of pay. Agreements will be incomplete when there are still further terms and conditions to be agreed. Agreements in principle will not usually be upheld in court and will not usually be considered complete verbal agreements.
Verbal Agreements and Disputes
If either party has decided to break a contract then the matter can be taken to the legal courts. In most cases the dispute may rest on the justification of the terms of the verbal agreement. There are a few ways that a judge will try and establish the terms of the agreement. These could include investigating what actually happened in practice. This can include the services that were actually undertaken and if any money whatsoever was paid for any services.
Enforcing a Verbal Agreement
Apart from taking the matter to court there are other ways to enforce a verbal agreement. If money is owed then the matter can be passed on to a collection agency to try to enforce the matter for you. The disgruntled party can also apply pressure themselves by sending letter, emails and making telephone calls to the person who is in breach of contract. Copies of all emails and letters should be kept in case the matter does reach the law courts.
Payment before Service
One way of avoiding this sort of dispute ever occurring may be to ask for some form of payment before supplying a service. Although the customer may not always agree to this it may be an option to consider. In some cases if a person is going to breach a contract and withhold payment then the odds are they may never have intended to pay for the service in the first place. In many cases though a customer may not like the idea of paying for a service until the job is completed for fear of non completion.
Threatening court action for breach of a verbal contract may not actually help the matter at all if one party intended not to carry through on the agreement. However the law does consider complete verbal agreements as Legally Binding and the matter can be brought to the law courts for a judge to make the final decision.
You might also like...
Hi there'sI'vetake out a 02 Refreshcontact for my sistercoz she can't getonebut it'sundermy nameI'm payforit viamy bankeachmonth. 17thJune 2014 I'vetakenit outshe keepsup thepaymentto mein tillNovember 20th2014 fromthatdateI don'treceiveanymorepaymentsfrom herwhat's of ever.She ownmeabout£249.50 that'sfromDecembertillnown it's2yrscontact I Donknowwhatto do aboutthiscozsheusedherkids to don't payup . WhatrightI'vegot on thisproblemif she don'tpay up?Thanks
Scotman69
- 23-May-15 @ 3:28 PM
Hi there'sI'vetakeout a 02 Refreshcontact for my sistercoz she can't getonebut it'sundermy nameI'm payforit viamy bankeachmonth. 17thJune 2014 I'vetakenit outshe keepsup thepaymentto mein tillNovember 20th2014 fromthatdateI don'treceiveanymorepaymentsfrom herwhat's of ever.She ownmeabout£249.50 that'sfromDecembertillnown it's2yrscontact I Donknowwhatto do aboutthiscozsheusedherkids to don't payup . WhatrightI'vegot on thisproblemif she don'tpay up?Thanks
Scotman69
- 23-May-15 @ 3:22 PM
I married 2 and half years ago,and moved in to my wife's house she had no money and said she wanted 50% of what I had for her own personel freedom, so I gave her £44.000 with one stipalation that she put my name on the house deeds so we both agreed the money went into her bank, but she never put my name on the house deeds,every two months I would ask when she was going to do it,each time I got nasty reply, I'm doing it. then sudenly she asked for a divorce. can you please give advise.
jolson
- 23-May-15 @ 9:55 AM
@Aryhian - have you been encouraged to apply for the job. It may be that through law the job has to be advertised, but if this is the case there is no reason why you can't apply.
Cass
- 22-May-15 @ 10:58 AM
@fletch - I'm afraid I can't answer your question fully as we are a UK-based website with little knowledge of US-based law. However, as in most small claims issues it would really be up to this person to prove that the service was requested regularly and if he had any evidence by text, email etc, then he might have a case. Yet, at the same time, at no time was he ever told to stop the work and it is unusual for someone to want to do work for free and the fact that you have paid him before may rule against you. It really would be up to the court to decide.
ContractsAndAgreements
- 22-May-15 @ 10:18 AM
@alex - Unfortunatley, unless you left a deposit over the phone there is really very little you can do accept put it down to a bad consumer experience, or see if the garage may give you a fuel refund. I would however, complain via letter directly to the garage ownership about your treatment.
ContractsAndAgreements
- 21-May-15 @ 12:40 PM
A local charity was about to cease functioning due to the withdrawal of NHS funding. I said I would fund raise for them and they said that they would put in the budget a two day a week for a fundraiser. If I got the money I would be employed two days a week at £25,000 pro rata for the five years that the grant was for. My objective would be to build up their funds over the five years so the charity would be sustainable in the long term My experience is Trust and Foundation Fundraising and I just won an application from the Big Lottery for five years funding a total of 450K. They have now said they will be advertising for a Fundraising Manager who has broad experience ofmany types of fundraising. They would be advertising for nothing if I had not won them the funding, they acknowledge they would have had to close. Is this a breach of verbal contract I am hoping I can do something about it as this was months of work,
Aryhian
- 18-May-15 @ 4:19 PM
A man that plowed my father's driveway two years ago showed up to plow again this year without ever asking anyone or calling to make sure. For half of the winter season no one lived in the house. Throughout the year my driveway continued to get plowed out as I was at work and was under the influence my uncle who had offered to render these services free of charge. When the year was done a man showed up claiming he took it upon his self to assume his services were needed. As a courtesy I agreed to pay him as I could. Out of a 525$ bill I gave 200$ at one time. I was then out of work due to hospitalization. The man came to my house and told my girlfriend that if the bill was not paid at once in full he would go to a small claims court. As I noted he never was asked to provide these services as I could have received them free of charge. I simply agreed to pay as could afford never stating a payment date. I do not believe this man has a legitimate claim for his demand of payment for rendering a service that was never asked of him and that my payment to him already was more than acceptable as once again the service was not needed
fletch
- 18-May-15 @ 1:55 PM
A trade car seller advertised a vw passat. We agreed the terms by phone. I made arrangements to collect the car, informed the trader by phone when I was on me way to him, with 5 min to get to destination he text me to say they have sold to someone else.I had to travel about 2 hours by car.Is this a breach of contract and what section of the act applies? Thx
alex
- 17-May-15 @ 10:23 PM
@Leah - I suggest you give Acas a call
here
, so that you can speak to someone directly about whether doing it this way is legal.
ContractsAndAgreements
- 7-May-15 @ 12:12 PM
in April i asked for a payrise. A few days later a manager in my office called me in and said i would get my pay rise and explained that my hourly rate would be so much. I didn't receive it in my payslip for April, i emailed my manager and asked if this would be sorted and backdated, he said it is being dealt with by another manager. I approached my other manager today and he said it had not been approved and would find another way of paying it. He suggested paying it quarterly as an additional payment. I'm worried that by them doing this of i wasto get an annual payrise it would not include the additional payment. Also if the company made me redundant it wouldnt put into account the full amount i earn. Can someone please tell me where i stand as this was something that my employer has verbally agreed to. I believe my colleague had been told he would get a payrise too but again has not been paid. Your help would be gratefully appreciated.
Leah
- 6-May-15 @ 3:34 PM
sorry MENT to say my children grandad is dead NOT MY CHILDREN
Hi my childernsgrandad died in november 2014 before he died he varbley told them he had left his money them.He married this lady when he was 70 years old and he was 85 when he died. Since his death Ifound out that this lady has never declaired that she had marriedto any grovenment body and had continuie to claim all her benefits as if she was single my childrens grandad would have been unawear of this, as he continued to give her money for rent and council tax and all the rest of the house hold bills . At one point he had a one bedroom flat of his own in which she usedas a hoilday home. Since he has died she has refused to give the his grandchild any of the money that their granddad had said was for them.The bank acount in with the money was left in for the childernshe has sign his name and taken the money out for her self please could you give some advice on this as i think this lady has broken the law in many ways then one over a long period but dont know how to deal with this problem as my children is dead
My brother got himself into a mess (although wasn't honest about how much)and ended up with a house that was unliveable and in negative equity.It was causing my parents lots of stress so I offered to get it done up for him so it could be sold he keep any profit and move on. What's actually happened is all along it would appear he's intending on living there for the next five years. Lots of things have come out of the woodwork and he's not answering my calls/texts moved in and has changed the locks. Where do I stand? It's 20K, no written agreement who would have though your family would rip you off, my parents are refusing to back me up as they're scared of him. Will I just lose it? Thanks for any advice
Furious
- 3-May-15 @ 6:02 PM
Hi! I'm a teaching and I agreed (by email and by telephone) with a student to give some private tuitions. There wasn't a formal contract but a general agreement about how many lessons and the cost of it (this was by email). Now, the student own me money and she seems not willing to pay the money for the service I have already delivered. Moreover, we agreed for a number of 30 hours of tuition and she come just for 4 hours. What can I do in this situation? I would like at least have my money back....Some suggestion? Thanks a lot for your help!
Hi I had a verbale contract with talk talk , fibre optic bb phone and set top tv box everything was fine but one day the TV screen went blank I contacted them was told to contact there repair group , was told the nearest date was nearly 4 weeks away. Iam. Shocked , still now they say I owe them over £1000 this started over 3 years ago can you tell me how long they can persue you thanks.
Mark
- 2-May-15 @ 4:25 PM
Hi I boughta horse on a verbal agreementthat I pay £50.each fortnight with £100 deposit which I have been doing . I have said in the past that I will try and pay more if ican and try and pay in full if I could get the money for the outstanding amount , the horse was up for £1500 which I agreed was a reasonable amount for this type of horse I have paid £750 which is half ,because I can't get the rest of the outstanding money to her she is now saying she is going to come and get the horse it was my idea to try and get the rest to pay up earlier but unfortunatly I'm not in that position anymore to do this so I will carry on with the fortnightly payments which now she is saying its unexseptable .the verbal agreement was for this in the first place so I don't know where I stand now because I have paid half the money .
Loulou
- 1-May-15 @ 6:21 PM
@lib - The 'CAB/ECC clients' experience of cancellation rights in consumer contracts', article may answer your question
here
. I hope this helps.
ContractsAndAgreements
- 1-May-15 @ 2:27 PM
@bigboy2 - I'm afraid we can't answer thsi question because we are a UK-based site and are not familiar with South African law. You would have to seek some alternative independent advice.
ContractsAndAgreements
- 1-May-15 @ 12:55 PM
I had a verbal agreement with an eskom contract owner called Tbose(not his real name) last year around december, infact i had worked for him from july until early septemmber when he decided to stop us for a reason we don't know,I went to find a job a month later , from another eskom contract. We were in bloemfontein when he called me that I should come back work with him, he promised me that things are okay, and he even has a 5year contract in Durban, so I should come, so we can discuss payment agreement. I told him I will only come when we done , of which he agreed.early january we met talk about payment we both reached an agreement. Mid through the month we started the job.month end things went well. Then come february, we waited for like a week without a call, then we started calling them, they avoided our calls.the whole month went on , thinking they will pay us sisnce they got us out of our jobs, they never did. We then used a cell no they don't knw, they answered it, we asked them what's going on?tbos told us that things are bad, we can go somewhere find the job.indeed we did find a job somewhere.just into 5 days in our new job they started calling us ,they told us that thing are in order, so we should go with them to durban,since it is hard to find long tern job in this industry, we thought 5 years can sustain us until we sort our lost time,we kept quite,they kept on calling ,we picked it up , we agreed to go with dem,but only after the month end, they pleaded us that they wil pay us our previous debt an give us some cash,I then asked one in our group to go with them to durban, I remain at de new job, told them that I will first finish what we started and then we will start together next month,he agreed.just in the same month he called me again asking meto go to durban.I told him month end of march,then come april he called me and tell me that I should not go back , I agreed, we kept intouch , I then received a call from his office telling me that they want me to go attend a course in durban, I agreed, dey said dey will call me for the detail,month end comes no payment again,so if I go to court will this help get paid for all the months he never paid me?
bigboy2
- 30-Apr-15 @ 5:40 PM
I have a very small start up company. I am trying to do advertising, for the company. I thought that adverising with an online ad agency would help to drive some buisiness in the right direction. So a friend of mine contacted a compay and set up a contract for me. They offered the best advertising top of the page in bold red letters and that I would get business from them. Thats not the case I have not received any calls and when I tried to cancel the contract or at the very least decrease the payment to a smaller location they refused, they have a very agressive sales force. I want to know that if I the owner of the company did not make the contract have any legal leg to stand on since I didn't agree to it, and if there is anything I can do to cancel this contract that I'm sure was recorded.
lib
- 30-Apr-15 @ 3:59 PM
@Cat - When you buy an item from a private seller, you lose some of your statutory rights and unfortunately unless a deposit was handed over, there really is little you can do.
Will
- 28-Apr-15 @ 2:22 PM
@Blossom - your question is a little abstract, so I'm afraid it makes it difficult to answer. I would need more specific information.
ContractsAndAgreements
- 28-Apr-15 @ 10:38 AM
@Jackie - the sheltered accommodation organisation should have a standard policy should situations like this arise, given they are dealing with the elderley. It may be best to contact them directly.
ContractsAndAgreements
- 27-Apr-15 @ 2:18 PM
@JACK - I think I would write a letter in the first instance saying their approach is bordering on harassment and that if it continues, you will seek legal action. There are hard sells and there are hard sells and this is sounding very aggressive.
Will
- 27-Apr-15 @ 11:43 AM
A private seller advertised furniture on gumtree. I offered a price and a collectiondate and they agreed. I made vehicular arrangements to collect the furniture but they have now emailed me to say they have sold to someone else. Is this a breach of contract and what section of the act applies? (I live in Scotland)
Cat
- 25-Apr-15 @ 11:41 PM
Is a gesture to offer money enforceable under English law please if I decide to retract the gesture? I am not getting anything in return for the gesture as it's merely a gesture of goodwill? This is purely a private domestic situation and not for any goods or services. Thanks
Blossom
- 25-Apr-15 @ 8:45 AM
My mother has been offered a flat in sheltered accommodation - a move in date was agreed by email, we agreed that a disability adaption should be made but no written contract or licence was signed. She has subsequently had to have an operation and does not feel up to moving. We have offered to pay reasonable costs incurred. is there anything else we should do to avoid being sued? Would be very grateful for advice. Thank you.
Jackie
- 24-Apr-15 @ 7:23 PM
we run a small hotel and are being hounded by a company who say we asked them to include us in their Pub Guide.At first they said it was a member of staff - who would not have the authority to do so. then they said it was the old manager who denies it.They said they would send out photographer and we said not to, we didn't want to place an ad.phototgrapher turned up and we sent him away.we receive phone call after phone call saying they have taped evidence that we placed the order and although we said we didn't want them prior to the visit, we cannot cancel it.staff are feeling harrassed by the calls and threats of legal action if we don't pay up.have no idea how much we are talking about but do not want to give in to their bullying tactics.
JACK
- 24-Apr-15 @ 10:31 AM
@si - it's a bit naughty that your previous line manager offered the role and didn't follow it up with a contract. You may have to give Acas a call to see where you stand legally here, but as with all verbal agreements it can be denied, or excused. You should also look in your contract terms and conditions to see whether there is a clause to say whether your employer is allowed to change your hours.
ContractsAndAgreements
- 21-Apr-15 @ 12:10 PM