The Law & Verbal Agreements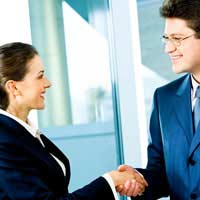 Many people are not aware that verbal agreements are in many cases as legally binding as written contracts. Verbal contracts can be upheld by a court if someone decides to breach the agreement, although without written terms and conditions it may be difficult to prove.
Conditions of a Verbal Agreement
Under law there are two basic terms that constitute a binding agreement. The verbal agreement will be binding if there was an agreement on the services to be performed and an agreement was reached on remuneration for this service. This agreement can be reached by a verbal exchange in person, via telephone or via an email.
There are certain contracts and agreements that must be made in writing and these will include the sale of property, tenancy agreements, copyright transfer, and contracts for consumer credit. In some cases, verbal agreements will not be upheld in court, not because of the lack of a written agreement but because the terms of the verbal agreement were not clarified.
Written Agreements
For any agreement concerning an exchange of services it is a wise idea to have some form of contract or written statement. The contract or statement should include the terms and conditions of the agreement and is particularly helpful if a dispute between the parties occurs.
Complete Verbal Agreements
In order for a verbal agreement to be legally binding the agreement must have reached completeness. This means that all terms and conditions have been reached and agreed regarding services and terms of pay. Agreements will be incomplete when there are still further terms and conditions to be agreed. Agreements in principle will not usually be upheld in court and will not usually be considered complete verbal agreements.
Verbal Agreements and Disputes
If either party has decided to break a contract then the matter can be taken to the legal courts. In most cases the dispute may rest on the justification of the terms of the verbal agreement. There are a few ways that a judge will try and establish the terms of the agreement. These could include investigating what actually happened in practice. This can include the services that were actually undertaken and if any money whatsoever was paid for any services.
Enforcing a Verbal Agreement
Apart from taking the matter to court there are other ways to enforce a verbal agreement. If money is owed then the matter can be passed on to a collection agency to try to enforce the matter for you. The disgruntled party can also apply pressure themselves by sending letter, emails and making telephone calls to the person who is in breach of contract. Copies of all emails and letters should be kept in case the matter does reach the law courts.
Payment before Service
One way of avoiding this sort of dispute ever occurring may be to ask for some form of payment before supplying a service. Although the customer may not always agree to this it may be an option to consider. In some cases if a person is going to breach a contract and withhold payment then the odds are they may never have intended to pay for the service in the first place. In many cases though a customer may not like the idea of paying for a service until the job is completed for fear of non completion.
Threatening court action for breach of a verbal contract may not actually help the matter at all if one party intended not to carry through on the agreement. However the law does consider complete verbal agreements as Legally Binding and the matter can be brought to the law courts for a judge to make the final decision.
You might also like...
A telephone company is trying to charge me a £500 cancellation fee.My three year contract expired but their argument is I made a verbal agreement to renew the contract.If I did this it was a trick tactic by the company. Any advice would be greatly appreciated
Noel
- 24-Mar-15 @ 5:48 PM
@Jimthegaff - I think in this case you should give Acas a call via the link
here
for some direct advice. I hope this helps.
ContractsAndAgreements
- 23-Mar-15 @ 10:24 AM
I recently handed my notice in at work on the 23rd of February 2015 requesting that my last worked day would be the 27th of March 2015. This was verbally agreed by the CEO who then put me on "garden leave", my minimum notice as per my contact was 4 weeks which my contact stated could be varied by mutual agreement, on the day i left for garden leave the CEO said that he accepted the conditions of my letter. I then received a letter on the 9th of March from the Operations director who said that the extra weeks notice will not be required and they will only pay me till the 20th of March and will also not pay me accrued holidays not taken, i assume as I am on garden leave. What can I do ?
Jimthegaff
- 19-Mar-15 @ 11:27 AM
@Ting Ontario - I'm afraid we can't help you here as this is a UK-based site and we are only familiar with UK property law.
ContractsAndAgreements
- 17-Mar-15 @ 3:07 PM
@Bell -if it is written in the will, you will get the money automatically anyway regardless of whether your brother says you told him otherwise. He would have to take you to court in order to try and extricate the money. I'd have a chat to the solicitor with whom the will is placed with.
Nathan
- 16-Mar-15 @ 11:28 AM
I am the tenant give landlord 6 post dated cheques for the next 6 months rental payment, landlord ask me whereI am going and when will come back? I told landlord I am going to Overases, if I delay to coming back, I will pay you whatever the arrears I owe you. Landlord says: no problem. This transaction was made during my farewell conversation with landlord. Landlord breached the verbal agreement, sued me at Ontario LTB 35 days later after landlord cashed the last cheque, while both LTB and Landlord knowing tenant still remaining Overseas, tenant unknowing there was a Hearing. Therefore, Landlord successful got eviction order against tenant and Captured tenant remaining huge valuable tntelletual property which is more value than the whole House. Landlord repeatedly ignored and refused arrears and legal fees payment, by taken action captured and disposed tenant 40 years livelihood property. I was living that whole house for last 21 years. Please tellme does the initial verbal agreement made during my farewell conversation is a legal binding to the court?I am living in Ontario, which court I can sue landlord for fraud bybreached verbal agreementand can I win the case? Thank very much for your reply.
Ting Ontario
- 15-Mar-15 @ 2:50 AM
@tg - yes, as while it was in your business address it would also be in your name.
Sean
- 13-Mar-15 @ 2:32 PM
My mother past away last year and the family home is to be divided x7, but my brother said I told him on the phone I did not want a share of the house which I never did. Now I will have to take him to cout over this as the house is valued at £2000,000. In London.
Bell
- 12-Mar-15 @ 11:18 PM
I signed a contact for my business phone. The contact was my business address,if i move out of that address and move to another property dose the contract still stand?
@Saesha - did you/he sign any contract? Has he given any reason why he is doing this? If it was a verbal contract then he has every right to change his mind. But, I think I would stick to your rates, you don't want to undersell yourselves and besides you would end up doing the job with resentment and that is not good in a caring environment. So if he doesn't want to pay you your rate I would ask him to find someone else. He might find that if he looks around he can't get the rates that you have given or the consistency and reliability unless he goes through an agency, who will be wanting agency fees on top of the employee's wages. Stick to your guns. With your experience, you will be able to find work elsewhere.
Suze
- 12-Mar-15 @ 11:44 AM
Supposed that in an oral contract, one of the contracting parties has already complied, can the other party avoid fulfillment of those incumbent upon him by invoking the statute of frauds?
ger
- 11-Mar-15 @ 8:41 AM
Can anyone advice me. My sister & I do private home care in peoples houses. We were asked by a Son to look after his Mother in her own home 12 hrs aday. We told him our rates and how we worked. He agreed to this. We have been working with his Mother now for 4 yrs in her home on a self employed basis and have been paid the same rates as ageed 4 yrs ago. Last week the Son has told us he wants us to take 17.5% off our hourly rate!! This will take off £35.00 a day from our wager and for me I will loose £500 a month! Can he do this?? after all he agreed the price 4 yrs ago. My sister & I want to say NO this is our rates and this is what you agreed to pay and have paid. Would love some good advice pls.
Saesha
- 10-Mar-15 @ 12:49 PM
@darrensudbury - I think CB and CTC can be split between both parents, so you would have to look into that. However, the whole issue is a bone of contention and an early day motion was put into place in 2010 in order to deal with this, see one of our partner articles Benefits System and Shared Parenting, link
here
. You may want to write a letter to your MP in order to see where this is up to. I hope this helps.
ContractsAndAgreements
- 10-Mar-15 @ 11:43 AM
@LE205 - I think I would ask to see proof of the bills and the amounts. Fair enough if you clocked up a big gas or electricity bill without realising, but usually you would sort out the utility bills with your landlord before you left. You could take a trip to the CAB to see where you stand. It really would have to be in your agreement regarding extra payments, sounds a bit odd to me.
Dan
- 9-Mar-15 @ 10:15 AM
hi I'm looking for advice regarding my ex partner and myself we have 2 chipdren together and have them half the week each so we agreed to split the child tax credits and child benefits equally no we have recently had an argument she has decided to no longer pay me my half and I'm strugglingg buying things for the children when i have them is there any way to go about this as there was a witness to our agreementt althogh it was never put in writing
darrensudbury
- 7-Mar-15 @ 8:10 PM
I recently vacted a property where 4 of us lived, each with our own tenancy. After paying my full rent including £30 towards a 1/4 of the bills, my landlord is asking for an additional £167.70 towards the bills, as the £30 did not cover them. There is no statement in the tenancy agreement regarding procedure when the £30 does not cover the bills. The landlord has told me that we had a verbal agreement before I moved in stating that when there is an underpayment, he splits whatever is needed to settle the bill between 4 and asks each of us for more money at each year end, but this would only ever be £30-£40. So I agreed thinking I'd never need to pay more than this. Do I owe him anymore than £40?
LE205
- 5-Mar-15 @ 4:01 PM
@Razzle - It sounds to me like your landlord is subletting against his own landlords' permission. This has the effect of your landlord being able to end your tenancy very easily (as there is not signed contract/agreement) but also if he has made a profit from subletting, this may be tenancy fraud on his part. This is not an ideal situation for you to be in and I would try and change this agreement or your shop, if you can, as you have no legal rights.
ContractsAndAgreements
- 3-Mar-15 @ 12:43 PM
@jim - I think I would give Acas a call on this one as it would be better to get some direct advice. You can contact the helpline via the link
here
. I hope this helps.
ContractsAndAgreements
- 2-Mar-15 @ 2:43 PM
Entered a verbal contract with a sub landlord, he signs my payment receipts as everything has been agreed upon, but have a funny feeling he may try and get rid of me from the shop at a moments notice, what notice period must he give me to vacate the premises if he does, as I've said the signed receipts are him signing into a verbal contract
Razzle
- 28-Feb-15 @ 7:52 AM
I entered a verbal contract without knowing or haveing it explaind to me what was in this contract I dented a door at work and they have deducted nearly a thousand pounds out of 1 months wage and are not being cooperative about resolveing this situation and are just saying it is in my verbal contract that I am liable as in the contract it states they can deduct money how can this be legal
jim
- 27-Feb-15 @ 12:18 PM
@KT - if there was, then it would be an even more tenuous link than verbal agreements already hold. Like with any agreement you'd have to prove it.
Max
- 25-Feb-15 @ 12:44 PM
@@John - I'm afraid I got a bit lost towards the end of your question. In essence you placed an order for parts with a company that has renaged on the contract and cannot produce the full quota. I think you may have to seek some legal advice just to make sure (given you've been caught in the middle) that you're not caught out.
ContractsAndAgreements
- 25-Feb-15 @ 11:48 AM
@paramotoring - there is not much you can do if you don't have a contract which should list the terms and conditions of your job. I have included a link that should help you with more information on what your employment status is and whether you have any rights,
here
. I hope this helps.
ContractsAndAgreements
- 24-Feb-15 @ 2:19 PM
Is there such a thing as a verbal agreement via a third party?
I entered into a verbal contract ( order) with a long standing customer for some 'made to order products' in November 14 These parts were quoted as 3 consecutive emails and the order was taken via telephone 2/3 days later" yes carry on with those jobs" After the parts were delivered I received a telephone from call from the customer saying he hadn't order all of the quoted work only some. This I said wasn't made clear and had produced all parts quoted against a telephone verbal order to "carry on with those jobs you quoted" The value of this bespoke work is £730,it as no value as resale.I have offered to meet halfway at £385. Would a small claims court think this was fair and reasonable, the customer was refusing to accept any monetary liability, but of this morning has offered to pay £192.50 and claims this to be the mid point. Thoughts welcome.
John
- 23-Feb-15 @ 11:47 AM
Hi. I run a small 1 man courier outfit that has been doing a nightly collection from Slough to Manchester . I have been doing this for nearly 5 yrs (x4 night's a week). I get paid monthly from the company that had me doing the job and was always good at what I did. On the 12th Feb 15 as I was on my last run to collect, I received a phone call telling me it was my last run .... EVER. No notice or anything !!!! I do not have a written contract as such but I do have a document from the company that I worked for stating me/ my company as collector of the job. Do I have a leg to stand on as to some form of payment at such short notice ? Hope you can help. Kind regards Mark
paramotoring
- 22-Feb-15 @ 10:24 AM
@yarbeshi - I don't really understand this. Is it that your daughter is taking you (her parents) to court for non-payment of college fees? It sounds like if she signed and her signature is on that documentation, then there is not much she can do, but pay the fees. At the same time it is hard to give advice, not knowing the full story and I think you would need to seek legal help for this.
San
- 19-Feb-15 @ 1:59 PM
@Jj22c - have you been given a contract? If so you should look in your the terms in order to see what has been listed. I'm afraid there is littleyou can do if the hours have been agreed verbally and changed.
ContractsAndAgreements
- 19-Feb-15 @ 9:59 AM
My daughter left her college 4 months before the end of a 3yr course fue to the principle treating her unfairly and bullying her. she is taking us to court for the terms fees as in her paperwork it ssys a terms notice is required i only signed a monthly payment paper with the date sept11-july12 ... my daughter left in march13 ... my daughter did sign a student contract which was for the sept10-july13 this was signed by her and yhe principle in dec12...no copies were ever given to us....she also in that time moved her fown a year and when i complained moved her back up a few months later do i have any rights?
yarbeshi
- 18-Feb-15 @ 3:02 AM
@s.jones - I'm afraid we are a UK-based company and don't have knowledge of U.S law, so we can't give advice on this.
ContractsAndAgreements
- 17-Feb-15 @ 11:30 AM