The Law & Verbal Agreements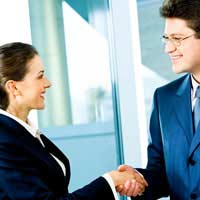 Many people are not aware that verbal agreements are in many cases as legally binding as written contracts. Verbal contracts can be upheld by a court if someone decides to breach the agreement, although without written terms and conditions it may be difficult to prove.
Conditions of a Verbal Agreement
Under law there are two basic terms that constitute a binding agreement. The verbal agreement will be binding if there was an agreement on the services to be performed and an agreement was reached on remuneration for this service. This agreement can be reached by a verbal exchange in person, via telephone or via an email.
There are certain contracts and agreements that must be made in writing and these will include the sale of property, tenancy agreements, copyright transfer, and contracts for consumer credit. In some cases, verbal agreements will not be upheld in court, not because of the lack of a written agreement but because the terms of the verbal agreement were not clarified.
Written Agreements
For any agreement concerning an exchange of services it is a wise idea to have some form of contract or written statement. The contract or statement should include the terms and conditions of the agreement and is particularly helpful if a dispute between the parties occurs.
Complete Verbal Agreements
In order for a verbal agreement to be legally binding the agreement must have reached completeness. This means that all terms and conditions have been reached and agreed regarding services and terms of pay. Agreements will be incomplete when there are still further terms and conditions to be agreed. Agreements in principle will not usually be upheld in court and will not usually be considered complete verbal agreements.
Verbal Agreements and Disputes
If either party has decided to break a contract then the matter can be taken to the legal courts. In most cases the dispute may rest on the justification of the terms of the verbal agreement. There are a few ways that a judge will try and establish the terms of the agreement. These could include investigating what actually happened in practice. This can include the services that were actually undertaken and if any money whatsoever was paid for any services.
Enforcing a Verbal Agreement
Apart from taking the matter to court there are other ways to enforce a verbal agreement. If money is owed then the matter can be passed on to a collection agency to try to enforce the matter for you. The disgruntled party can also apply pressure themselves by sending letter, emails and making telephone calls to the person who is in breach of contract. Copies of all emails and letters should be kept in case the matter does reach the law courts.
Payment before Service
One way of avoiding this sort of dispute ever occurring may be to ask for some form of payment before supplying a service. Although the customer may not always agree to this it may be an option to consider. In some cases if a person is going to breach a contract and withhold payment then the odds are they may never have intended to pay for the service in the first place. In many cases though a customer may not like the idea of paying for a service until the job is completed for fear of non completion.
Threatening court action for breach of a verbal contract may not actually help the matter at all if one party intended not to carry through on the agreement. However the law does consider complete verbal agreements as Legally Binding and the matter can be brought to the law courts for a judge to make the final decision.
You might also like...
@KT - if there was, then it would be an even more tenuous link than verbal agreements already hold. Like with any agreement you'd have to prove it.
Max
- 25-Feb-15 @ 12:44 PM
@@John - I'm afraid I got a bit lost towards the end of your question. In essence you placed an order for parts with a company that has renaged on the contract and cannot produce the full quota. I think you may have to seek some legal advice just to make sure (given you've been caught in the middle) that you're not caught out.
ContractsAndAgreements
- 25-Feb-15 @ 11:48 AM
@paramotoring - there is not much you can do if you don't have a contract which should list the terms and conditions of your job. I have included a link that should help you with more information on what your employment status is and whether you have any rights,
here
. I hope this helps.
ContractsAndAgreements
- 24-Feb-15 @ 2:19 PM
Is there such a thing as a verbal agreement via a third party?
I entered into a verbal contract ( order) with a long standing customer for some 'made to order products' in November 14 These parts were quoted as 3 consecutive emails and the order was taken via telephone 2/3 days later" yes carry on with those jobs" After the parts were delivered I received a telephone from call from the customer saying he hadn't order all of the quoted work only some. This I said wasn't made clear and had produced all parts quoted against a telephone verbal order to "carry on with those jobs you quoted" The value of this bespoke work is £730,it as no value as resale.I have offered to meet halfway at £385. Would a small claims court think this was fair and reasonable, the customer was refusing to accept any monetary liability, but of this morning has offered to pay £192.50 and claims this to be the mid point. Thoughts welcome.
John
- 23-Feb-15 @ 11:47 AM
Hi. I run a small 1 man courier outfit that has been doing a nightly collection from Slough to Manchester . I have been doing this for nearly 5 yrs (x4 night's a week). I get paid monthly from the company that had me doing the job and was always good at what I did. On the 12th Feb 15 as I was on my last run to collect, I received a phone call telling me it was my last run .... EVER. No notice or anything !!!! I do not have a written contract as such but I do have a document from the company that I worked for stating me/ my company as collector of the job. Do I have a leg to stand on as to some form of payment at such short notice ? Hope you can help. Kind regards Mark
paramotoring
- 22-Feb-15 @ 10:24 AM
@yarbeshi - I don't really understand this. Is it that your daughter is taking you (her parents) to court for non-payment of college fees? It sounds like if she signed and her signature is on that documentation, then there is not much she can do, but pay the fees. At the same time it is hard to give advice, not knowing the full story and I think you would need to seek legal help for this.
San
- 19-Feb-15 @ 1:59 PM
@Jj22c - have you been given a contract? If so you should look in your the terms in order to see what has been listed. I'm afraid there is littleyou can do if the hours have been agreed verbally and changed.
ContractsAndAgreements
- 19-Feb-15 @ 9:59 AM
My daughter left her college 4 months before the end of a 3yr course fue to the principle treating her unfairly and bullying her. she is taking us to court for the terms fees as in her paperwork it ssys a terms notice is required i only signed a monthly payment paper with the date sept11-july12 ... my daughter left in march13 ... my daughter did sign a student contract which was for the sept10-july13 this was signed by her and yhe principle in dec12...no copies were ever given to us....she also in that time moved her fown a year and when i complained moved her back up a few months later do i have any rights?
yarbeshi
- 18-Feb-15 @ 3:02 AM
@s.jones - I'm afraid we are a UK-based company and don't have knowledge of U.S law, so we can't give advice on this.
ContractsAndAgreements
- 17-Feb-15 @ 11:30 AM
I come off job seekers to work at a bar and was told verbally I would always be giving 16 hours or more. A new manager is now in place and has only gave me 10 hours which is very little and really can't afford to live off that. Is there anything I can do...?
Jj22c
- 17-Feb-15 @ 8:07 AM
@polar - your son's ex would have to take him to court in order to get the money he owes. I don't think your text to him would be legally binding as forcing a payment as circumstances can change, and you were gifting it to your son. However, she could still seek redress through him and the text could be used as an admission in court that he does owe her money.
Aidy
- 16-Feb-15 @ 11:40 AM
I sold a car on payments and they went and got a bonded title and refused to pay me and say the cars in their name so what can I do
s.jones
- 15-Feb-15 @ 1:04 AM
Hi I sent a text to my son last year saying when our house was sold I would give him some money so that he could pay back what he owed to his girlfriend . They split up and now she is saying that I have to pay her and that the text is legally binding . Is this so? Also we didn't make enough profit so didn't give our son what we promised. He was ok about that
polar
- 13-Feb-15 @ 2:18 PM
@Finchie - this government article via the Competition and Markets Authority may interest you and give you the answers you need, link
here
. I hope this helps.
ContractsAndAgreements
- 12-Feb-15 @ 2:06 PM
Hi, I am a bulk gas user through a tank and tried to purchase gas from a supplier at 32pence per litre only to be told I was in a verbal contract with another supplier who wants to charge me 44pence per litre and will jot let me buy gas from anyone else until the contract expires ( they say another 14 months) given we use approx 4000 litres per year to heat our home and water that would mean me paying my current supplier some £500 + more than I need to ie 25% more than I can buy on the open market for. They will not release me from their verbal agreement even tho I don't recall any such agreement, will not let another supplier fill up the tank or reduce the price, I have two kids under the age of 3 and rely on gas for heat and hot water, what are my options?
Finchie
- 11-Feb-15 @ 6:50 PM
@lashes - I think you need to get some advice on this before you sign anything. Are you in the U.K? If so, you can contact Acas in order to get some free advice on the situation. However, it does not sounds as though such a contract would be permissible here. I hope this helps.
ContractsAndAgreements
- 10-Feb-15 @ 10:33 AM
I entered into a verbal agreement with a hospital who decided to sponsor me for a training and afterwards I work for them .no conditions were stated as to how many years I'm to work and the penalty for breaching of theagreement . After three years I find out that the certificate acquired from the sponsorship was non accredited .Now they have brought a written document stating all terms and conditions and penalty for termination? Should I sign ? If I decide to quit the job can they take me to court?
lashes
- 9-Feb-15 @ 1:53 PM
I purchased a wedding dress and paid a 50% non refundable deposit.They verbally agreed to store the dress and carry out all alterations yo my dresscloser to the time (July 2016).I signed a contract saying I couldn't cancel my order.They are ceasing trading later this year so will no longer store my dress or alter it as agreed. As they are breaking the verbal contract am I able to ask for my money back?
Ellie23
- 5-Feb-15 @ 3:12 AM
@loons - I suggest you get some legal advice over this one, so that it can be ascertained through both parties what you think is a fair financial split and also it will prevent and repercussions or disagreements when you come to sell.
ContractsAndAgreements
- 4-Feb-15 @ 11:41 AM
@Ned - if this is U.S law I'm afraid we can't advise as we are a UK based company.
ContractsAndAgreements
- 3-Feb-15 @ 12:53 PM
@dimps - I'm afraid I can't really advice where you may get this information from. Has your college or university made any suggestions? I think I would speak to a tutor who can advise you on the best way forward.
ContractsAndAgreements
- 3-Feb-15 @ 10:32 AM
Purchased a timeshare with a friend whom I was living with. She invested 12,000 and I invested 1500.00At the time we each paid half of the maintenance fees and taxes.Ten years later, we are not living together and I have moved away.I do not feel that paying 50% is applicable now and need some advice.The other party is selling the timeshare for a loss, market is now down to about 5,000.00 and she feels she should receive most of the sale which I agree!I want to pay a portion that is representative of what I invested......especially now that we have no reason to be in contact.Any help or advice would be good.Thanks
loons
- 2-Feb-15 @ 8:14 PM
Im 2011 my now X wife and i got divorced I Moved out into my own place. In our divorce i agreed to pay the second morgage. Three monthslatter i revived a message from my X that herboyfriend was moving in and he will be making the payment on the second mortgageas he didn't want me coming around the house any more. When i revived the message i was on a camping trip with 25 people and this was the talk of the campfire. In December of 2014 her and i sold the resident (we were joint owners) now she has decided she get all the equity because I didn't make the payments for the second morgage. I have proof the the boyfriend did live in the home.when i returned from my trip i called her and asked for something in writing but of corse she never sent it. I have written statements from 4 people that recall the message. This is now in the court system. The judge is not sure if this verbal contract can be used in court? I am looking this up on my own as so is my attorney. Should is be allowed to be heard in court?? I will follow up with this either way it goes.
Ned
- 2-Feb-15 @ 12:14 AM
i have an assignment where i have to give a client some advice whether he can enforce a deed that was repudiated,the deed was about selling some shares and it had a suspensive condition...the owner of the shares got a better offer & therefore repudiated the first offer...the question is how do i go on to advice him,where do i begin?
dimps
- 31-Jan-15 @ 8:33 PM
@katsue - I'm afraid as we are a UK-based site we can only advise on UK law.
ContractsAndAgreements
- 30-Jan-15 @ 11:17 AM
My question is concerning a will or trust and a verbal agreement that was name of the Father two daughters that the Sun we get money from them but not have it is named the will also that there would assist you this and also she had text and said she would take care of it now its becoming a problem and we don't know what to do we live in California
katsue
- 28-Jan-15 @ 9:39 PM
@Angel - Your questions area a little confusing as I'm not sure why you would be given three months free rental and also you don't say if it is business or private as you say you did not get any clients. It makes it difficult to answer the questions. The conditions of your let should have been laid out in your rental contract, so I sugegst in the first instance you have a look at that. In the meantime all I can do is direct you to the gov.uk site regarding private renting
link here
. You could also go to the Citizens Advice Bureau and ask for some fre advice. I hope this helps.
ContractsAndAgreements
- 27-Jan-15 @ 10:06 AM
In Oregon and most other states, the old saying goes, "verbal contracts are not worth the paper that they are written on" applies. Without a witness or something in writing. the is simply no contract unless both parties agree in court that the terms of the contract were a meeting of the minds involved. After the fact he said she said testimony has no evidentury value in swaying a judge in deciding in ether parties favor. It is simply a push. Write it down, sent an e-mail, get a response, or get it sighed,. If you have not done those things then don't throw good money after bad, just let it go.
Bristol
- 25-Jan-15 @ 3:37 PM
Hello , I had moved into a property in October , I payed the deposit as required and was given 3 months rent free .In January 2015 I received an invoice for £1,360 I was shocked as I know that the rent was £650 and the service charge were £193 pm , since being at the premises I had hardly got any clients , the estate agent contact me stating that my account was in arrears I ask how he said I had rent /service charge and insurance dueI explained that I was not told about the insurance for the property but I payed it in my deposit which was a one off payment , I also explained and told him that the rent will be payed at the end of the month @ £850 which was agreed , he then went on to say the landlord won't allow arrears on the account , I then told him I have not got the kind of money , he then went on to say , I really need to consider being in the property because of arrears of then rent , know I dident have the kind of cash and was put in the position I had to leave the property . Now they refuse to refund me 2wks rent and said the landlord is being generous by giving me back £25 from my deposit please help me ?
Angel
- 25-Jan-15 @ 10:49 AM