The Law & Verbal Agreements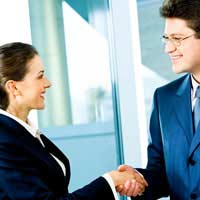 Many people are not aware that verbal agreements are in many cases as legally binding as written contracts. Verbal contracts can be upheld by a court if someone decides to breach the agreement, although without written terms and conditions it may be difficult to prove.
Conditions of a Verbal Agreement
Under law there are two basic terms that constitute a binding agreement. The verbal agreement will be binding if there was an agreement on the services to be performed and an agreement was reached on remuneration for this service. This agreement can be reached by a verbal exchange in person, via telephone or via an email.
There are certain contracts and agreements that must be made in writing and these will include the sale of property, tenancy agreements, copyright transfer, and contracts for consumer credit. In some cases, verbal agreements will not be upheld in court, not because of the lack of a written agreement but because the terms of the verbal agreement were not clarified.
Written Agreements
For any agreement concerning an exchange of services it is a wise idea to have some form of contract or written statement. The contract or statement should include the terms and conditions of the agreement and is particularly helpful if a dispute between the parties occurs.
Complete Verbal Agreements
In order for a verbal agreement to be legally binding the agreement must have reached completeness. This means that all terms and conditions have been reached and agreed regarding services and terms of pay. Agreements will be incomplete when there are still further terms and conditions to be agreed. Agreements in principle will not usually be upheld in court and will not usually be considered complete verbal agreements.
Verbal Agreements and Disputes
If either party has decided to break a contract then the matter can be taken to the legal courts. In most cases the dispute may rest on the justification of the terms of the verbal agreement. There are a few ways that a judge will try and establish the terms of the agreement. These could include investigating what actually happened in practice. This can include the services that were actually undertaken and if any money whatsoever was paid for any services.
Enforcing a Verbal Agreement
Apart from taking the matter to court there are other ways to enforce a verbal agreement. If money is owed then the matter can be passed on to a collection agency to try to enforce the matter for you. The disgruntled party can also apply pressure themselves by sending letter, emails and making telephone calls to the person who is in breach of contract. Copies of all emails and letters should be kept in case the matter does reach the law courts.
Payment before Service
One way of avoiding this sort of dispute ever occurring may be to ask for some form of payment before supplying a service. Although the customer may not always agree to this it may be an option to consider. In some cases if a person is going to breach a contract and withhold payment then the odds are they may never have intended to pay for the service in the first place. In many cases though a customer may not like the idea of paying for a service until the job is completed for fear of non completion.
Threatening court action for breach of a verbal contract may not actually help the matter at all if one party intended not to carry through on the agreement. However the law does consider complete verbal agreements as Legally Binding and the matter can be brought to the law courts for a judge to make the final decision.
You might also like...
Hello , I had moved into a property in October , I payed the deposit as required and was given 3 months rent free .In January 2015 I received an invoice for £1,360 I was shocked as I know that the rent was £650 and the service charge were £193 pm , since being at the premises I had hardly got any clients , the estate agent contact me stating that my account was in arrears I ask how he said I had rent /service charge and insurance dueI explained that I was not told about the insurance for the property but I payed it in my deposit which was a one off payment , I also explained and told him that the rent will be payed at the end of the month @ £850 which was agreed , he then went on to say the landlord won't allow arrears on the account , I then told him I have not got the kind of money , he then went on to say , I really need to consider being in the property because of arrears of then rent , know I dident have the kind of cash and was put in the position I had to leave the property . Now they refuse to refund me 2wks rent and said the landlord is being generous by giving me back £25 from my deposit please help me ?
Angel
- 25-Jan-15 @ 10:49 AM
@GP - the easiest thing I can do here is direct you to a link via Shelter on 'letting agent fees and charges'
here
which should give you all the information you require on what and what they cannot charge for. I hope this helps.
ContractsAndAgreements
- 23-Jan-15 @ 1:09 PM
Just a question I have please, for an urgent advice. I viewed a property for the purpose of renting. I made a deposit too the letting agent via online transfer, and the next day I called him that I am no more interested, because plans changed with my current letting agent. The property itself is not ready to move in, because the current tenant is supposed to be vacating it in 5 day's time. I was supposed to move into the property by month end (10 days time), and property needed lots of cleaning work. Now the letting agent told me he would take £100 out of the £450 that I paid as deposit - he says as his admin fees, for me not proceeding with the rent again. I have told him I need my money back in full, but he insisted that I either get 350 or nothing back. Please advice.
GP
- 22-Jan-15 @ 11:45 PM
@ if the lease was signed and you registered as a limited company and the company folded then you may have recourse. But unfortunately, if you signed the lease under the terms of agreement as a sole trader, then I'm afraid there is little, if nothing you can do.
ContractsAndAgreements
- 20-Jan-15 @ 2:19 PM
@this is a bit tricky to answer, as you have not said whether the property is in joint names etc. You would have to give more details about your background (whether you lived together etc) and your contribution in order to ascertain what rights you might have.
ContractsAndAgreements
- 20-Jan-15 @ 11:33 AM
Hi I signed a 3 year lease in a commercial premises but signed it after I queried what would happen if the business did not succeed, the landlord told me it wouldn't be a problem he would just re-lease the property. Unfortuartly I didn't get the contract checked as the landlord was a solicitor and seemed ok. The business didn't last and now the landlord is holding me to the lease until he can get someone else to take it on. When the business closed I disputed this with him and he agreed verbally over the telephone that I was paid up for the current month and he would keep the bond for the next month and then would release me from the lease. He is now going back on the verbal contract...can anyone give me advice on this please.
Pitstop
- 19-Jan-15 @ 5:15 PM
@Peanut - I'm afraid I cannot advise any further. I think at this point you really need to seek further legal advice as what sounded previously like an idle threat is becoming more serious and complex, especially if he can prove that he had a day-to-day interest in your business, which it sounds as though he may be trying to do.
ContractsAndAgreements
- 19-Jan-15 @ 11:48 AM
@nicky - you could possibly take this through the small claims court if you can prove that your friend gave you assurance she would pay you back each month. Text, emails or any correspondence regarding the matter will count for this. Of course it is a tricky one given you opened the contract in your name and it could be claimed by your friend that this was as a gift. So, you need to be able to prove otherwise. It might work in the first instance that you organise a solicitor's letter asking for re-imbursement for the money owed, which may make your friend take notice. If you can easily prove that the contract was not a gift and you have evidence of this, then you can possibly take it straight to court. See link
here
. I hope this helps.
ContractsAndAgreements
- 19-Jan-15 @ 10:51 AM
I had verbal agreement with an individual for property sold we came to mutual agreement about paying, now the individual is refusing to pay what we agreed on he has verbally abused me he wants to give me less than what we agreed on and he has not yet paid me anything What are my right
Val
- 18-Jan-15 @ 5:43 PM
Hello, I just want to thank whoever it was that recently replied to my email, requesting information on my awkward situation with my ex partner. If you, at all have any other information handy, it is always welcome... I am currently getting legal advice but it is becoming a little bit too expensive.... Before I go I will just ask - My ex has applied for an application to Land Registry that restricts me selling, re-mortgaging my property because he claims he has this interest in my properties. Now, as he doesn't even has his name on any of my property deeds, can he do this? I'm under the understanding that this will go to a tribunal - again, an affair that I won't be able to afford. Somehow, this all seems very unfair. So, please if you have any advice based on how I approach this I'd really appreciate your advice. Regards.
Peanut
- 16-Jan-15 @ 6:15 PM
Hi I need some advice, I agreed to take a phone contact in my name, my friend assured me she would pay me each month so she had the phone in good faith to pay she hasn't paid me anything I've asked for phone back she hasn't returned it, the contract has been terminated and I'm now in debt for 804 pounds am I within my rights to report it to police please someone as she has obtained it under false pretences from me
nicky
- 16-Jan-15 @ 2:59 PM
@Peanut - I think in this case at some point you may need to seek legal advice given the nature of the borrowing. However, on the surface it seems that he has no recourse to obtain any interest in your assets, apart from the payment of the money you owed. He would only have a case if he could prove through correspondence that you agreed to give back the money with interest. As specified in the article, there are certain contracts and agreements that must be made in writing which include the sale of property. In some cases, verbal agreements will not be upheld in court, not because of the lack of a written agreement but because the terms of the verbal agreement were not clarified. If you own your properties and he has no business or other financial interest in them, then they are yours. I hope this helps.
ContractsAndAgreements
- 15-Jan-15 @ 11:32 AM
Hi, I hope someone can help me with my question/s. My ex-boyfriend of 9 years is trying to claim interest in my 12 properties. We are now finished and thankfully I've just managed to get him out of my house. He has put an application in to Land Registry attempting to claim interest in all that I own. He lent me approx £45,000 from the sale of a previous property of his about 18 months ago which helped pay off a previous loan of mine, but no agreement has ever been entered into between us stating that he has interest to approximately the value of£100,000 in my properties (for which he is asking), although he is trying to say there has been something agreed. Does he have any entitlement to my properties? He has never paid any mortgage payments, bills or anything for any of my houses. The original loan from him to me has been offered back but he won't accept it. He wants more. Around 4 years ago his dad lent me approx £40,000 as a loan to help me buy another flat with the agreement that I just pay him back the original loan paid to me from his mortgage. Again no other agreement was ventured into but he is also claiming that I made an agreement with him to give him double back his original loan. Both son and father are trying to rip me off and all they have to back their claims up are their words. Am I at risk of losing out given no contracts have ever been written up? If anyone has any advice please help. I'm losing my marbles here.
Peanut
- 14-Jan-15 @ 7:50 PM
@fboy -I think in this case because it is a touch confusing,it would be better to speak to someone directly. I suggest you give Acas a call, and you will be able to explain it to them fully. You can contact them on 0300 123 1100 for free advice.
ContractsAndAgreements
- 14-Jan-15 @ 2:34 PM
@Devin - do you have anything in writing, even if it is a text or an email with the set amount agreed between you? If you do that will help you out. On the other hand if she has anything in writing too that you may have overlooked then that will give her a good case for recourse too. Yes, she can apply to take it through the Small Claims Court, however she will have to substantiate her claim and be able to prove the amount you owe. It might be that she can do that through bank statements etc. Likewise you should be able to prove the amount you owe through bank statements etc, unless of course you paid her cash which is never a good idea. I would start having a route through all your statements and correspondence regarding this and then make the decision from there as whether to pay up or fight your case. I hope this helps.
ContractsAndAgreements
- 14-Jan-15 @ 10:18 AM
I have been to the bargain counsel to take my boss h he told me that I dont have to go further with the case case he wil lose he's contract at the company we worked at so we sat in the room I signd the paper that I wont take further cause of the verbal agreement we had but now he has broken the verbal agreement what can I do I am now sitting at home with no money
fboy
- 14-Jan-15 @ 7:30 AM
Hi, a couple of years ago me and my girlfriend(at the time) moved in together. I was able to pay half the rent as agreed but lost my job in the process which caused her to have to pay my half. After about a year or so passed we broke up but still continued living together, I told her I would pay her back but at the time she did not know the total cost of how much. So we came to a verbal agreement that I would pay only a certain amount back. Now a year or so later she comes back with another price that we did not agree on and says if I don't pay that it'll be taken to small claims court. My question is would I have to pay her the full amount even after we already made the agreement on a set price.
Devin
- 13-Jan-15 @ 10:21 AM
Tel service provider cancelled a telephone service on my limited company which was going into insolvency. We were paying the tel contract which was to expire in Sep but service was cancelled end of May/June. The contract was in the Ltd name but they are seeking the balance 400 from me personally under a new contract Do l have any recourse, could l seek redress through small claims court although they are threatening court action themselves
andy
- 12-Jan-15 @ 1:55 PM
@cathy - it should say in your agreement whether this can be done. But I imagine given your employer is the owner of the car, then they can sell it if they choose, but it would be a bit unfair if they decided to just as it was due to be handed over to you.
Becks
- 7-Jan-15 @ 11:49 AM
me and my ex employer/partner has a written agreement to say I can still have full use of the company car until its final payment in April in which time the car will be sign over to me and become mine. My question is could he sell the car n the meantime?
cathy
- 7-Jan-15 @ 10:20 AM
My brother in law had money problems and asked my mother in law for help with his debt. After much consideration my mother in law said that he can "buy" the house from her for the amount of his debt and then he only has one instalment on the house. She will give hhim the full amount of the loan. They have a verbal agreement that as long as the parents live, they have the right to live in the house and a couple of other agreements as well. Now my brother in law wants to sell the house and also treats my in-laws very badly. The house is registered in his name after the "transaction". What are the rights of my mother in law fir enforcing the verbal agreement legally?
Marienkie
- 4-Jan-15 @ 8:56 PM
Hi a friend of mine is an MD of his own cleaning company and has a family member doing the accounts. They have recently told him that he needs to Pay £16k at the end of the month for tax which is ok but the company should be running at a profit and yet she is saying it's running at a loss. Her husband also works there and is the FD and she has sent an abusive text message telling the MD that she has a new car on lease and that there's nothing he can do about it etc etc. they both have verbal contracts. Surely if the company is do called running at a loss why has the FD (her husband) authorised this? Ps the MD lives in New Zealand.
My dad passed away Nov 2013. As I was added to my dads will later in life as did not get on with his wife. My sister and step siblings inherited a lot more than me. However my sister and I agreed that we would put all of our inheritance in a pot and then split it equally. However since then she has now said she wont and she has also stated this in a E-mail to me. As we had a verbal agreement in place and I also have her E-mail stating she cant and wont share equally do I have a case to pursue, as obviously the E-mail does prove we had this verbal agreement in place. The amount we are talking about is £10,000 shortfall to myself. Any advice or help would be very much appreciated. Sarah :)
Sarah C
- 21-Dec-14 @ 7:27 PM
@Barry - have you not had a pay rise since 2002? Perhaps it's time you asked for one if the car is being withdrawn. It seems rather unfair. You should give Acas a call, and check what the protocol is.
Rob
- 19-Dec-14 @ 12:06 PM
I started with my employer October 2002 and as salary was low the managing director allowed me the use of a company car to commute to work including fuel he retired approximately 6 years ago nothing changed then 2 months ago current m/d said he was withdrawing car and as nothing in my contract and only a verbal contract with previous m/d this is effectively a 15% pay cut have I any rights
Barry Heighway
- 18-Dec-14 @ 8:22 PM
@Jadey - apparently due to news reports there has been an increase in pet disputes after people become attached to the pets they are taking care of an don't wish to give them back. Of course, a good friend will keep to the arrangement and things will work out fine. A recent case used Return of Goods Act, in order to try and get their animal back through the courts. Proof of ownership and having it in writing that the dog is purely on loan and that it has not been given away, will help any future dispute you may have. However, much depends on the amount of time it takes you to sort yourself out, for instance if it is a year before you can find more suitable accommodation then your animal will become familiarised with the friend and it may be harder to ask for it to be returned.
SarahH
- 17-Dec-14 @ 11:24 AM
@kid currie - I have included a link Tribunals for Rents Disputes which should hopefully help you. Link
here
.
ContractsAndAgreements
- 16-Dec-14 @ 3:00 PM
Ihave asked a new work colleague to temporarily let my dog stay at her house as my tenant agreement states I cannot have pets in my house. I am providing for my own dog, with food supply, bedding, bowls, toys etc. and will be collecting the dog daily when I am not working to walk him. It is just somewhere for him to stay until I find a permanent solution where I can have him with me. What can I do in order to protect myself and my pet incase of a dispute.
Jadey
- 16-Dec-14 @ 1:06 AM
I pay a weekly rent of £25 been doing so for over 13 years,my initial landlord passed away, the house has no heating is draughty and has no hot water, I had to pay for a kitchen installation.My new landlord is giving me a hard time trying to get me to pay £420 per month, this would be ok if property was decent, private rental panel have been informed,flat is so cold I am going away for 3 months ,during which time they want the rent increase to start,rental panel have not yet inspected property, can courts instigate eviction as I wont pay higher rent under circumstances.
kid currie
- 15-Dec-14 @ 6:49 PM
I have the blueprints on email of the script he asked for along with the finished script that matches the blueprint and several emails in between reminding him he had promised payment to accompany the blueprints... he never replied
Polls
- 15-Dec-14 @ 5:37 PM