Implied Terms in Contracts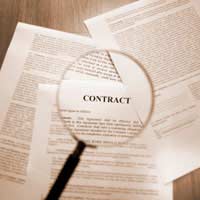 Implied terms may have to be added to a contract so that it represents the agreement reached by the parties and the law which applies to that type of contract.
The Historic Basis of a Binding Contract
The terms of a contract should represent the agreement reached by the parties. This may sound obvious but, in practice, a contract may not include everything that the parties agreed. Historically, it was decided that a binding contract had to represent the consensus - or coming together of wills – of the contracting parties. If a dispute arose, and the matter went to court, the judge would have to establish the intention of the parties and give effect to that intention.
Express Terms and Implied Terms
It may sometimes be difficult to work out from the terms of the contract itself what the parties intended. The terms which parties explicitly include in a contract are known as the express terms. If the intentions of the parties are not clear from the express terms, it may be necessary to imply terms into the contract.
A contract rarely stands alone in absolute isolation. It may:
arise out of a particular course of dealing between the parties;
relate to a particular set of circumstances; or,
be in relation to a type of transaction which always has certain rules attached to it.
In any of these situations the contract might not expressly include all of the terms that relate to it. Therefore, it may be necessary to incorporate implied terms.
There are generally three different ways in which a term may be implied into a contract.
Contract Terms Implied by a Statute
Traditionally legal statutes had little impact on a contract freely entered into. However, increasingly, terms are implied by statute which may take precedence to the express terms of the contract. For example, a landlord and tenant may agree that, by way of a deposit, the tenant will give the landlord a painting. The tenancy agreement may include an express term stating this. However, according to the Housing Act 2004 a deposit in relation to a shorthold residential tenancy must be in monetary form. This law may override the express term in the contract.
A common type of contract which is likely to contain terms implied by statute is a contract for the sale of goods. Under common law the legal principle of caveat emptor – or "let the buyer beware" - applied to most contracts for the sale of goods. This meant that it was up to the buyer to make sure he knew what he was buying. Today various terms are implied into most contracts for the sale of goods. Some of the most important implied terms are:
The seller has good title to the goods (i.e. he actually owns them);
The goods correspond to the description given by the seller;
The goods will be reasonably fit for the purpose for which they are sold and of satisfactory quality;
Where a large quantity of goods is purchased following production of a sample, all of the goods will be of the same quality as the sample.
Whether or not the parties can include a valid express term excluding the terms which would otherwise be implied by statute may depend on a number of factors. These could include the previous business relationship between the parties, the relative bargaining power of the parties and the particular term which it is sought to exclude.
Contract Terms Implied by Custom
Some contracts may be entered into in the context of widely accepted business practices common to all contracts of that type. Therefore, even if the contract does not include an express term that the practice applies, it may be implied that it does. If the parties decide that the practice or custom will not apply they may have to include an express term excluding it.
If the parties have included an express term excluding the usual practice this should usually take precedence to the general custom which applies to that sort of contract.
Contract Terms Implied by a Court
The courts may imply terms into a contract to give effect to the intentions of the contracting parties. Generally a court will only imply a term into a contract where it is obvious that it represents what all of the parties intended when they entered into the agreement and where the term is necessary to give "business efficacy" to the contract.
The courts may also imply a term into a contract if it is necessary to do so for the contract to comply with the common law. (However, for many modern contracts the necessary term may already have been implied into the agreement because it is contained in a legal statute.)
You might also like...
I work in Higher Education, front line facing services. I have been employed for 9 years.My contract is m-f comprising a 2 shift system mornings and lates between 0730-1830. Enhanced rates after 1830 and at weekend rest days. Since I started work I have been allowed to work 3 hrs day O/T making my working day 0730-1830. This is 15 hrs a week = 60 hrs PM @ 1.5 time. Other colleagues have work this practice also, one in particular for 12 years. The practice has never been seriously challenged, forms part of rotas, is signed off on time sheets, documented all over the place to the highest levels.etc etc etc. We never miss a beat and just clock on and clock off.This sounds unbelievable but it is TRUE.. We believe it now to be full blown Custom and Practice as individuals now regard it as part of their contracts and have become accustomed to the salary. My employer may be pressured into implementing the Living Wage (the higher rate LW Foundation), I will benefit from this. However, as a result there is speculation that my employer may wish to address certain payments and allowances including O/T. This will probably involve unions but there is a suggestion that the employer could use the business model of " work life balance" to claw back the cost of the LW and to get rid of these 15 hours per week. Any thoughts particularly on the Custom and practice ?
Granite
- 9-Feb-18 @ 3:31 PM
Hi, I own a small holiday letting business and we are updating our Terms and Conditions. Is it acceptable to have the wording "by going ahead with the booking you confirm that you have read and agreed to these Terms and Conditions"? Do T's & C's need to be actually signed? Or is a tick box to confirm that you have read and agreed to these Terms and Conditions absolutely needed?
Mrs M
- 18-Jan-18 @ 2:43 PM
We have been renting a flat through an agency. Our renewal date is 30 may. We have just signed our third contract. In July agency called to let us know that landlady needs her property back by the end of the year.So we started looking, found a property and applied for it. We have let the agency know that we will be vacating property on 3 October, but now the landlady says she didn't expect us to move so soon. We have a 6 months clause in our contract so the earliest we can give notice is send end of November. But we have actually never received a contract with her signature on it, only have a copy which is signed by us, is the contract still legally binding?
Lucia
- 8-Sep-17 @ 7:28 PM
Hi, we put scaffolding up for a client at his house in february, the agreed time was 4 months and a rate for extra hire if needed it went into ten weeks extra hire. In may , went to the property to check progress, the project had not been started and nothing had been done whatsoever to the property, the client then said it would be ready in september , we said no that can't happen and we will be taking the scaffolding down. He is saying it was a contract without conditions and we have breached it . are we liable ?
Jwag
- 29-Jun-16 @ 9:45 AM
Davo - Your Question:
HiA major UK company has been selling to us here in Spain for 6 years uninterrupted. They now have said that they no longer wish to sell to us. There is no written contract, do we have any legal grounds to challenge their decision?
---
Our Response:
It is highly unlikely you have any grounds for recourse if there is no contract in place. In order for a verbal agreement to be legally binding the agreement must have reached completeness. This means that all terms and conditions have been reached and agreed regarding services and terms of pay. Agreements will be incomplete when there are still further terms and conditions to be agreed. Agreements in principle will not usually be upheld in court and will not usually be considered complete verbal agreements.
ContractsAndAgreements
- 21-Mar-16 @ 11:52 AM
Hi A major UK company has been selling to us here in Spain for 6 years uninterrupted. They now have said that they no longer wish to sell to us. There is no written contract, do we have any legal grounds to challenge their decision?
Davo
- 18-Mar-16 @ 4:56 PM