Making Your Own Contracts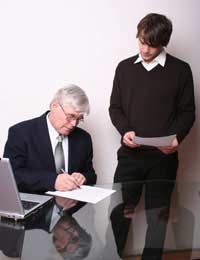 Many people would find the idea of drafting their own contracts very daunting. The assumption for some is that legal expertise and contract law knowledge would be needed before attempting this task. But legal expertise is not always necessary when making your own contracts, although it is vital in some cases. As long as you follow some simple guidelines it is quite easy to set out your own contract.
Binding Contracts
The fundamental basis of a contract is offer and acceptance. When one party makes an offer and the other accepts they are basically entering into a legally binding contract. But the contract will not be deemed complete until all the terms and conditions have been laid out. This does not necessarily have to be done in writing; a verbal contract can still stand as legally binding, but it is a wise move to have some form of written contract.
Terms and Conditions
The terms and conditions of a contract are a very important aspect of the binding agreement. If a breach of contract were to occur and a dispute was brought before a court, a judge would look into the terms of the contract very carefully. All the terms and conditions must be laid out carefully before the contract can be deemed legally binding. These terms must not be ambiguous or vague; they must be clearly understood and accepted by both parties.
The terms and conditions must also be complete, which means that no further terms and conditions are to be added to the contract at a later date. There can be changes to a contract at a future date, such as employers changing job specifications for an employee, but the original terms and conditions must stand.
Contract Types
It is very wise to have a written contract when dealing with any form of financial service. Contracts will vary and some may be more complicated than others; this will be when legal advice will be needed. For example, an employer who is hiring an overseas employee will need formal paperwork and contracts, which may be the job of the human resources department.
Some contracts can be very simple and will state some basic business particulars, the offer, acceptance, timescale and the remuneration. Some contracts can simply be verbal agreements between two people, and verbal agreements can be classed as legally binding. Having a written contract does make sense, especially where money is involved, in case of any later disputes over a breach of contract.
Downloadable Contracts
If you are looking for a basic contract without any legal expertise involved then it may be a good idea to check the Internet. In a lot cases you can simply type in the type contract you need into an Internet search engine and you will be able to download a basic contract. Some of the contract providers will charge you for the templates and there is no guarantee that these contracts have been made with any form of legal input. Remember there are some cases where legal contracts are needed such as the sale of property and tenancy agreement;, solicitors will be needed to draft these contracts.
Contract Checklists
If you are considering drafting your own written contract then careful consideration over the contract components will be needed. Items that should be included in any contract will be dependant on the type of contract but will usually include:
The name and address of both parties.
Offer and acceptance.
Time schedule.
Specification of services.
Fees.
Terms and conditions of the project.
Dates and signatures of both parties.
Liability clause.
Breach of contract clause.
If you are making your own contracts the main aim is to make sure that all of the terms and conditions are clearly laid out. Both parties must not be under any misunderstandings as to their responsibilities and expectations. A written contract can save a lot of time if any dispute arises as it can then be referred to at a later date.
Written contracts are a wise idea regardless of whether you are making your own contracts or employing a legal expert to make them for you. They serve as set rules of expectation for the parties involved in an agreement. If there is a written contract then it is much easier for a dispute to be settled should one arise, or if the matter is taken to the legal courts.
You might also like...