Banking Contracts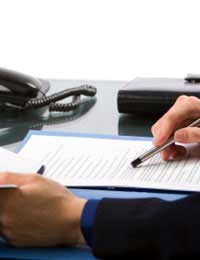 Banks provide a service to a customer and like any service there should be terms and conditions in place that are agreeable to both the bank and the customer. Banking contracts are set in place in order that the customer and the bank are aware of each others requirements, expectations, and obligations. These contracts are legally binding regardless of whether the customer is banking online or on the actual banking premises.
Standard Banking Contracts
Banking contracts are usually set out in a standard format, and the terms and conditions within the contracts should apply to all customers. There may be differences in certain contracts such as the differences between a mortgage arrangement or a basic bank account. But each of these contracts will have certain terms and conditions set out within them that will apply to all customers.
Terms and Conditions
The terms and conditions of any banking contract will represent the legal foundations of how business will be conducted between the bank and the customer. Usually if a customer opens an account they will sign a contract and a bank's representative will read through the contract with the customer. In most cases this will often occur as a quick scan of the contract with a signature required at the bottom of the contract.
However, problems can occur by not reading the contract's terms and conditions thoroughly. In order for a contract to be legally enforceable, the terms and conditions must have been read and clearly understood by the customer. But even if the contract has not been thoroughly read, and most customers will not spend the time doing this, their may be terms and conditions in the contract that can be deemed unfair and unenforceable.
Unfair Terms
There is a common assumption that, in the business world, contracts must be honoured and that customers are bound by, and have no say on the terms and conditions of a contract. But the law can override a contract's terms and conditions if the contract itself eliminates the customer's rights, and banking contracts are no different with regards to this rule.
Bank Charges
In many cases where a bank customer feels they have been treated unfairly, and banking charges are one of the most common reasons, the banks have often replied that these charges were laid out in their terms and conditions. However, there has been a great deal of controversy over these specific terms and conditions in so much as they have been called unfair in Parliament. The fact that thousands of bank customers have been applying and receiving penalty refunds would seem, in part, to be an acceptance of these unfair terms by the banks themselves.
The banks themselves cannot admit that the terms are unfair and will refund certain payments using the term "goodwill payments". The matter of bank charges is now undergoing an ongoing investigation, and the outcome could see a complete change in certain banking terms and conditions regarding penalty charges and fees.
Spotting Unfair Terms
Customers will only spot unfair terms in banking contracts by reading the contracts thoroughly, and that includes the small print. In most cases banks are aware that their clauses need to be legally acceptable and lawyers will have been brought in to draft the contracts. But that does not mean that every bank's contract will be the same and some will have very clever clauses intended to bend the law in their favour. Banks are in business to make money, and make a lot of it, mostly at the customer's expense.
Always Read Clauses
Banks cannot place terms and conditions into their contracts that are unclear and undefined. They also cannot place terms and conditions into a contract after the contract has been signed and agreed by customer and bank. A bank also cannot limit their liability towards breach of contract by placing certain conditions in the contract. They must not place terms in the contract where the balance of favour is with the bank to the detriment of the customer. All of these factors can be deemed unfair by a court of law and the contract can be found to be unenforceable if a dispute occurs.
It is important that a customer reads all the terms and conditions in any banking contracts. If there is a dispute then too often a bank will use the excuse that the customer has to comply as they knew the exact terms when they signed the contract. Banking contracts are not set in stone when it comes to unfair terms and conditions, and consumer rights. If consumer rights are infringed in any way then the matter can be taken to agencies that regulate banking behaviour.
You might also like...