Business Sale Contracts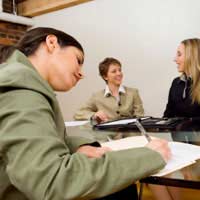 Buying any type of business can be a risky proposition and is not something that can be rushed into. But if you have thoroughly researched your options, found the perfect business, and received financing then the final step will be signing the all important business sale contracts. The first step towards that point will be the all important offer and acceptance.
Making the Offer
By the time it comes to making your offer to buy your chosen business you should already have your business plan and financing in place. You should also have taken a preliminary due diligence report; this is necessary to make sure the business is as advertised. The next step once a price has been agreed for the purchase will be to write a letter of intent. This letter should cover all features of your intention to buy the business. Also included will be the conditions that you still need to set in place before you will be in a position to actually buy the business.
Preliminary Terms and Conditions
The letter of intent is not a contract but a guideline of how the sale will take place. It is used to make sure that there are no misunderstandings between buyer and seller. It is a form of terms and conditions and can contain some clauses of protection. Included in the letter of intent can be terms that stop the seller from talking to other prospective buyers while you are interested and preparing to buy.
One of the more important terms in this letter, or as it is sometimes known "heads of agreement" is the financial protection it offers if the seller decides to terminate the deal. You may be able to recoup any financial losses legally using the terms and conditions in the letter of intent.
Problems with a Letter of Intent
While a letter of intent is seen as partially binding it is an informal document and may not be completely enforceable. There are some countries where the terms and conditions of a letter of intent cannot be enforced. It is a wise move to bring in some legal business expertise to help draft a letter of intent.
Purchase and Sale Contract
This important legal document consists of the rights and responsibilities of buyer and seller. It will cover terms such as purchase price and how and when the purchase will be made. There can also be further conditional clauses added to this document such as restrictions on the seller in setting up a competing business in the same area as your own newly purchased business. Legal advice and information will be needed during the drafting and signing of the contract. A solicitor will be able to place protective clauses, and terms and conditions throughout the drafting of the business sale contract.
Legal Advice
Solicitors can also help with any issues regarding planning permissions or licensing. There is no set timescale for the buying of a business and the whole process can take many months. Researching your intended business is the best way to protect yourself and taking legal advice is a must where business sale contracts are concerned.
Legal fees are not cheap but it is always better to be safe than sorry where money and expenses are concerned. If you have any concerns regarding the sale and do not feel comfortable then you can always walk away from the deal. Until money and final contracts have been exchanged you are under no legal requirement to go ahead with the purchase.
The final step will be to sign and hand over contracts and exchange the keys. If you have taken the right legal advice throughout the purchasing process then there should be no problems regarding the sale. The hard work to make your business profitable will now begin once the business sale contracts have been signed and sealed.
You might also like...
i am in business partnership with 2 others. Last year the company had a few financial problems. i returned from my holidays and was told they had borrowed some money from one of my business partners brother who also happens to be my ex husband.i was not happy but it was too late the money had already been spent i was told we had to pay him back monthly which we have been doing so ever since. Today i was told that it was an investment and we have to pay him every month as long as the company survives. i have not signed anything but was told they made a verbal agreement is there anything i can do as i totally refuse to do this
julie
- 5-Jun-13 @ 6:57 PM
Hi I bought a cafe restaurant in cheltenham uk last year I was new in business they guy who sold me that cafe open a new cafe after 6 months in da same area just 800 meters away I without telling me anything I trusted dat person but a friend of mine told me now tht is not legal any advice for me do I still have any rights against his this act do I entitled of compensation regardsamer
BUT
- 28-Jun-12 @ 10:35 PM