Partnership Contracts Explained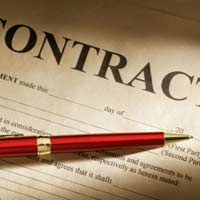 Business partnership contracts are written agreements between two or more people who are intending to conduct a business together. Binding partnership contracts need to be set in place for the protection of those involved in the business and to set out clearly the terms and conditions of the business.
The Need for a Business Partnership Contract
One of the reasons for the creation of business partnership contracts is the setting down of how the business will be run. The contract will clearly set out the terms and conditions of the business, the duties of each of the partners and the goals of the business.
The contract can also be used if any conflicts arise between partners regarding the running of the business. In many cases business partnerships are formed by friends and at times this friendship does not translate well within the business world. Just because two people are good friends socially does not mean that they will work well together in business. The terms and conditions of a contract can be used to avoid conflicting business goals or if one partner starts to take the business in different direction than was originally agree.
Forming a Business Partnership
As with individually run businesses there are some requirements needed when forming a business partnership. These will include no objections to the chosen business name, the names and addresses of the business must be printed on all business stationery and registration with a VAT office if the level of income requires it.
Unlike individually owned businesses there are some requirements that will exist in business partnership contracts. These requirements will all be set down clearly in the contract's terms and conditions. The requirements should include:
All partners will have voting privileges.
There should be an agreed level between partners regarding the running of the business.
Partners cannot take wages but can take a wage from the capital account.
Capital investment will be divided between the partners at an agreed amount.
Profit and loss will be shared between partners at an agreed level.
Holiday allocation and time off will be agreed and set down in the contract.
An agreed percentage level must be reached on any interest paid to capital investment brought in by a partner.
Contracts such as a deed of partnership can be drafted by a solicitor and will have many more agreed clauses. As long as the terms and conditions of the contract are fully agreed between the partners then clauses that are included in the contract are entirely up to the business partners.
Memorandum of Understanding
Basically there are two main types of contract that can be used when forming a business; the formal contract of business and a memorandum of understanding (MOU). A memorandum of understanding is less formal that an actual business contract and is a statement of intent on how the business will be run.
There are some disadvantages to the MOU, the main disadvantage being that it is a broader statement of intent and may not list the day to day activities of running a business. Unlike formal business partnership contracts the MOU may not have a complete list of term of terms and conditions that can be used if any disputes occur. But an MOU is an effective tool in communicating the basic terms of the actual business.
Limited Partners
Limited partners should be named in any business partnership contracts. They are sometimes known as sleeping partners and they will not have a say in the day to day management of the business. Limited partners may have been brought into the business to supply extra capital and will usually see this returned in profits. By naming themselves limited partners they will be able to protect themselves against any debts or business obligation incurred by the other business partners.
It is wise to take the advice and expertise of a business advisor or a solicitor when drafting the terms and conditions of any business contract. There is government help available for anyone who is considering forming a small or medium sized business. Help from these agencies can include financial advice and advice on drafting business partnership contracts.
You might also like...