Illegal Employment Contracts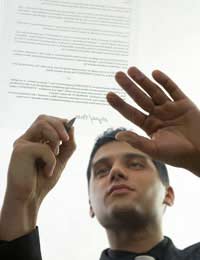 In Britain there are strict terms regarding what actually constitutes a legal employment contract. Illegal employment contracts are widespread and the consequences for an employee working under an illegal contract or an employer who uses them to operate a business can be severe.
Employment Contract Terms
When an employer and employee agree to a working relationship then they have entered into an employment contract. There are a number of terms, rights and stipulations involved in the employment contract, and an important one is statutory rights. Every employee who has an employment contract is entitled to statutory rights such as working conditions, pay, redundancy, maternity leave and a range of other rights.
If an employee has been given a contract that does not include these statutory rights then the contract is not necessarily illegal but it will not be enforceable by law. Similarly if an employee knows that their contract is illegal he or she may not be entitled to claim employment rights. The consequences of these illegal employment contracts may be dependant on how serious the illegality is considered. The consequences can also be dependant on how much collusion took place between the employer and employee with regards to the employment contract.
Other Illegal Employment Contracts
In most cases employees will be able to tell whether they are working under an illegal employment contract. There are a few rules which basically shout out that the contract is illegal. These will include the non payment of tax and national insurance on wages or taking specific cash in hand work in order to avoid paying tax and national insurance.
Cash in hand work can also be illegal in certain cases if no declarations regarding the employment are made and no tax contributions are made. Employment that includes illegal or immoral acts as part of the job would also constitute an illegal employment contract.
Consequences of Illegal Contracts
Consequences for both employer using illegal contracts and the employee who works in this manner can be severe. It can be a matter for the courts to decide and the decision will be based on many factors such as amount of collusion between employee and employer. Employers who negligently employ illegal workers face fines of around £10,000 per worker and they can face an unlimited fine or prison sentence if they hire the employee knowingly. Employees who work under illegal employment contracts can also face large fines and a criminal record.
Illegal Employment Contracts and Immigrants
Britain has more than its fair share of illegal workers from other countries and the rise in severe penalties has reflected this. Issues such as work visas and work permits need careful scrutiny if an employer is hiring a worker from abroad. Employers need to check visa stamps, valid work permits and passports for any new employee who is not a British resident. Penalties when using illegal immigrants have become more severe and employers claiming ignorance will not find this a reasonable excuse with the courts.
Where to Find Help
If an employee suspects that they are working under an illegal employment contract then they should seek help with the matter immediately. Advice and information on illegal employment contracts can be found at Citizen's Advice offices or the Employments Rights Services.
According to government statistics £3.3 billion a year is lost in taxes due to illegal workers. Illegal employment contracts have become a serious issue and the rise in penalties to both employer and employee has reflected this. Expert advice and information should be sought if there is any suspicion of an illegal employment contract in order to avoid a hefty fine and a criminal record.
You might also like...
I'm working for a community radio station.been with the station for almost 5 years being a Receptionist,working from 9am to 5pm Ever since they unforced Us to sign a volunteer Affidavit and it has been stated no salary although they give us stipend from 2000 rand a month Pls assist in this situation because I believe this is not legal They taking advantage of Us because we are desperate Please advise Regards Zee
Zee
- 13-Sep-20 @ 7:47 PM
My shop owner is having all of his independent barbers sign a 3 year lease this year. Is that legal? As an independent barber can I decline to sign and to be ivicted from my space?
Richard
- 17-Feb-17 @ 6:08 AM