Overseas Worker's Contracts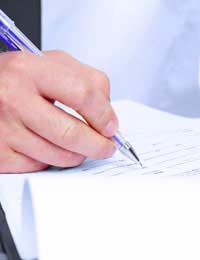 When an employer hires an overseas worker then there are numerous legal documents that must be dealt with. This documentation not only includes the overseas worker's contract but also includes factors such as work permits and visas. In many cases not all of this documentation will be required, for instance visas and permits for EEC nationals working in Britain and vice versa. But hiring an overseas worker will need careful consideration to ensure the employer stays within the remit of the law.
Reasons to Employ Overseas Workers
There are numerous reasons why an employer would hire overseas workers. They can include performing a job that requires specialist skills that are unavailable in Britain or to fill employment vacancies where there are not enough British applicants. A worker can also be transferred to another country but still work for the same company, sometimes known as secondment.
Work Permits and Visas
An overseas worker will usually be required to have a valid visa and a work permit to work in Britain or their country of choice. In some cases visas and work permits will not be required. For instance if a UK worker were to gain employment in a country covered by the European Economic Area (EEA) then they may not require visas or work permits. An overseas worker's contract will usually still be required in order to list job details and terms and conditions of the employment.
Overseas Worker's Contract
What is and isn't included in the overseas worker's contract will usually be dependant on whether the job is going to be temporary or permanent. If the employment is only a short secondment then many companies will find it easier for the employee to keep their own country's pay rates and employment benefits. Included in the contract will usually be:
Details of taxes and social security
Details of pay
Benefit details such as relocation costs
Length of employment details
Statutory rights applicable to country
Period of notice of employment termination
Dual contract details for workers who work overseas and in their own country
Dual Contracts
Dual contracts have been under some fire lately from UK companies. These contracts permit overseas workers who are resident in the UK but are nondomiciled to be paid in the UK from one contract but paid for work overseas from another. The nondomiciled status means that taxation can be very low, and some have accused dual contracts as specifically leading to tax evasion.
Reports have shown that as much as £3 billion could be gained in extra tax if nondomiciled workers lost their low tax status. It is well known that many overseas workers will structure their work based around countries where the taxation will be low. There are a number of rules and regulations where dual contracts are concerned and more advice can be found from the HM Revenue and Customs office.
Illegal Overseas Worker's Contracts
Much has been made in the media of the high number of illegal overseas workers in the UK. There are severe penalties for any employer who offers employment to an overseas worker without the proper visas and work permits. At the moment the penalty for employers who negligently employ illegal workers from overseas is £10,000 per worker. Employers who knowingly employ illegal workers will face an unlimited fine and a prison sentence. Any overseas worker's contract that is found to be illegal may also deem the employee's employment rights void.
The rules and regulations regarding overseas worker's contracts are in place for the protection of both employer and employee. Working overseas can be a great learning experience both culturally and professionally. Although the documentation involved can sometimes give red tape headaches, the consequences to working without the correct legal visas, permits and contracts are simply not worth the risk.
You might also like...