Marriage Contracts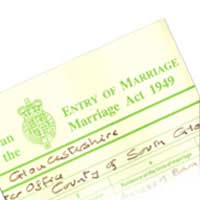 Regardless of the reasons why couples enter into marriage it is usually taken very seriously and this is reflected by the legally binding marriage contracts. There are two basic traditional forms of marriage in Britain; religious and the civil ceremony, and both types will give the husband and wife certain rights.
Marriage Contracts
When people are married they will enter into a marriage contract that gives them certain rights. The marriage contract is a legally binding document that give the married couple certain rights that are not extended to people who are simply cohabiting. Married rights can include financially supporting each other and responsibilities regarding child support.
There are also legal rights involved regarding state benefits and pensions from the contributions of a spouse that are not extended to couples who are cohabiting. These rights are taken very seriously and can be enforced if the marriage breaks down.
Parental Responsibility
Another important right supplied by a marriage contract is parental responsibility. If a child was born while the parents were married then both parents have joint responsibility of the child. This is a right that unmarried fathers do not have.
Property Rights
Under the law of marriage contracts a spouse has the right to live in the matrimonial home even if they are not the actual signed tenant or pay the mortgage. This right is given under the Matrimonial Act of 1983 and is a right not extended to unmarried couples. There will also be rights under a marriage contract regarding property and the death of a spouse and rights regarding wills and estates.
Entering into a Marriage Contract
Anyone over the age of 16 who is not already married can enter into a marriage contract. But permission must be given from parents if the couple are under 18.
Legal Requirements
There are some legal requirements that must be met before a marriage will be seen as legal. Apart from the minimum age requirements these will include:
The marriage must either be a civil ceremony or a religious one.
The couple must not be related to each other.
Both partners must have consented to the marriage through their own free will.
Both partners must be of sound mind and fully able to understand the contract of marriage.
The location of the wedding should take place in a church, registry office or other authorised building.
Each partner must fulfil notified residency requirements.
Formal Notice of a Marriage
Regardless of whether the wedding is to be a civil ceremony or a religious marriage, public notice will be required. For religious ceremonies this will mean the reading of the banns, which is an announcement of the marriage in a church three weeks before the wedding. Both marriages will need to be registered in the district where the couple live, either by the registrar or by the priest or vicar who is conducting the wedding ceremony.
Required Documents
When the couple who are intending to marry visit the vicar or Registrar they will be required to bring some formal documentation. This will include documentation regarding the termination of any other marriages and either birth certificates or passports. If the couple to be married are under 18 then the consent forms from parents will also be needed.
Marriage contracts are taken seriously under the eyes of the law and religious organisations. In terms of breaking a marriage contract there will be legal requirements and a married couple will not be able to obtain a divorce until they have been married for at least one year. If either spouse is in any doubt regarding their marriage it is better for everyone involved to make these doubts known before the wedding ceremony rather than have to go through a complicated legal process afterwards.
You might also like...
I like to marriage in usa
farooq
- 26-Nov-18 @ 7:31 AM
Does the law of marriage apply to a union of a British citizen and a non EEA citizen of man and wife?.If this is so does my wife have a right to live in the matrimonial home I live in UK or have any other right to live with me even if she is under immigration control.Do immigration laws circumvent marriage laws if married and registered in a UK parish?
Digger
- 25-Oct-18 @ 3:46 AM
Hi if a man and woman are married for 35 40 years in one matrimonial home and had been placed in man's name. Am I right in saying woman has rights? To property
Nat
- 25-Oct-18 @ 12:09 AM
Sorry i forgot to say. If you enter into a contractual agreement to buy a house and you then found out that the foundations were rotten to the core, you would have the legal right to sue the vendor. Each case should be waited on the evidence. I wouldnot have willing bought that house or at least would have given great thought to whether or not I could live with its issues. if I had been given full disclosure before purchase.
Helen
- 19-Sep-18 @ 12:02 AM
He accused me of raping him for 22 years of our marriage. He has said that if he had his choice our 2 youngest children would not be here. He has stated he only signed up for the first 2. He is a top professional in his field and I do genuinely believe that our children and I were beards to further his career. Impossible to prove but none the less true. I had no idea of his proclivities until the end of the marriage. He had withheld pertinent information from me throughout and therefore took away my expectation of transparency within our marriage. Wronged spouses should be allowed to sue for breach of contract.
Helen
- 18-Sep-18 @ 11:48 PM
@Helen- you wouldn't be able to prosecute as half the population would be jumping on that bandwagon. Anyhow, despite the decisions he's made and the changes he has gone through since marriage he may have entered into the marriage willingly and not fraudulently. The fact you have had children must mean that somewhere along the way both he and you were compatible.
JoJo
- 18-Sep-18 @ 10:11 AM
I've been married 24 and a half years. At present I'm going through a very difficult divorce. My husband cheated and attempted to cheat on numerous occasions, each time he twisted the events to make it my fault. In 2014 I discovered he was a cross dresser, he is now on his way to being a transgender female. As it turned out this had been part of his make up and part of his life unbeknownst to me. I want to prosecute him for entering into a marriage fraudulently and to the detriment of my and our children's health and wellbeing.
Helen
- 18-Sep-18 @ 7:09 AM
ghizlane2012 - Your Question:
Hi ,I was married to an English person in Morocco the ceremony was held in Morocco and there was a dowry that he should be paid.The Husband paid a check of 5000 pounds , and we mooved to live in the UK on 2010, I hav decided to open a bank account using that check but unfortunately it was rejected , account doesnt exist anymore.In my marriage certificate it stated I got 5000 pounds but I didn't.Can I sue him for breach of marriage contract ?
---
Our Response:
Are you still married to this man? Have you waited five years to cash this check? When two people are married money is considered jointly owned. I don't imagine any promise made five years ago would stand up in court unless an agreement was made through a solicitor. If so, your only recourse would be to apply to court. However, as this is considered an unusual arrangement in the UK you would need to seek independent advice first.
ContractsAndAgreements
- 2-Aug-18 @ 9:46 AM
Hi , I was married to an English person in Morocco the ceremony was held in Morocco and there was a dowry that heshould be paid .The Husband paid a check of 5000 pounds , and we mooved to live in the UK on 2010, I hav decided to open a bank account using that check but unfortunately it was rejected , account doesnt exist anymore.In my marriage certificate it stated I got 5000 pounds but I didn't .Can I sue him for breachof marriagecontract ?
ghizlane2012
- 1-Aug-18 @ 11:41 AM
Hi i want to contarct base marriage for money ....
Zain
- 21-Jul-18 @ 6:40 PM
I want to get into contract marriage. Its purely for financial help. Pleas eemail
I Am Abbas from India want to do contract marriage for money need which i can fulfill my family problems . what app +971554305120
ARK
- 17-Apr-18 @ 1:16 PM
I want to do contract marriage in USA (Newyork).
Khan
- 18-Mar-18 @ 4:57 AM
I want to do acontract marriage bcoz i am lesbian n my family doesn't know about it and they want me to marry. I only wanf to marry for my family n for that society my family cares about. Can anyone help me. I can pay but no physical.
vi
- 28-Dec-17 @ 12:53 PM
Hi my name is iftikhar i am from india if any girl intrested in comtract marriage then plz whatapp me in this number +917059092288
Ifti
- 23-Dec-17 @ 7:46 AM
i am interested in contract marriage. if any girl wants to discuss then pl whatsapp me on 9714153320. whatsapp only
aman86
- 24-Nov-17 @ 3:07 PM
hi , I want contact marriage in Uk . if any women accept for proposal so please contact me. I only 26 years old . I am good-looking & well educated. so any Skill to improve my life.i am from Pakistan my contact no is 00923214229900
Kashi Shiekh
- 26-Oct-17 @ 2:33 PM
Mujhe contract marriage karni h m haryana m rhti hu if anyone intrested then mail me
ladu
- 14-Aug-17 @ 5:48 PM
Hi, I am interested in contract marriage for permanent Immigration and settlement in UK. If any girl is interested can contact me on 8619755492
Any ladies interested in taking this up ? Am employed,around 40 .Safe , healthy ,secure stay promised with possibility to takeyourself to perm. Residency in Germany .Rest is of course upto you.No promises on fairytalelifelong relationship . Prenup contract a must .
TillUCitizen
- 15-Apr-17 @ 10:30 AM
hi , I want contact marriage in USA . if any women accept for proposal so please contact me. I only 26 years old . I am good-looking & well educated. so any Skill to improve my life . can you show me face on Facebook name Mukesh Rajsekher Thakur , hometown Janakpur , Nepal. regards call me at +9779844108727
Mukesh Kumar Thakur
- 3-Mar-17 @ 8:05 PM
I'm on polygamy relationship and my partner have marriage certificates in commit of property.it is the any chances of signing onother contract with me without his wife ner
mkateko
- 28-Jan-17 @ 12:33 PM
I want to do contract marriage. contact me on 9930188646. i am ready for all terms and conditions.
Geet
- 24-Dec-16 @ 8:02 AM
Hello, I am in USA on student VISA i am looking for a girl who can willing to get marry with me to get a papers. i am ready pay whatever she asked. My family left me because i didnt get marry with their choice girl. now no one is in my life and i am single alone living in USA. My sponsor company is ready to sponsor me after i finish my education. but dont have that much time and money. My age is 26.( i need paper of either USA or CANADA) Reply only interested people.
I am moroccan and resident of morocco. I am in a relationship with a UK citizen and we are thinking about civil marriage in UK next September (as in morocco the marriage procedure is complicated and so long). Could you please advise what will be my rights & obligations as a 'foreigner' getting married in UK? As well, is my passport enough to contract? Am I allowed to get married in UK with a ' 6 months Tourist Visa'? Thank you in advance for your help. Kind regards, Fadoua
samrae2010
- 17-Jun-16 @ 12:09 PM
I want a girl who pass ielts 6.5 band for contract marriage .becouse I am going to abroad.plzzz call me 9058000540
miki
- 28-Mar-16 @ 10:08 AM
Hi. Ravi from Delhi want to marry on contract basis any girl interested Pl call me 7042066745
Ravi
- 19-Mar-16 @ 5:07 PM
I want a girl for contract marriage Pl. Cont. Me 7042066745
Ravi
- 19-Mar-16 @ 4:59 PM
I am intrested in a reach woman dat can marry me on contracti just need somemoneyto helpmy self.
kokoroayo one
- 12-Mar-16 @ 3:58 PM
I am Jackson living in Pakistan the worst country in the world always thinking of terrorism please can you help me move to USA with my 14 year old kid.
Jack
- 22-Jan-16 @ 8:39 AM