Agency Work & Contracts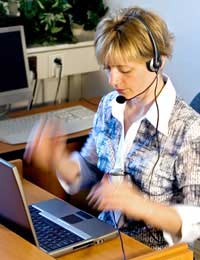 Agency workers, often known as temp workers have a different relationship with employers than regular workers. Whereas regular employees work directly for a company and have a contract with them, agency workers are employed by a third party. Agency workers may not be entitled to all of the employment perks that a regular employer will provide and it is important to have a contract of services with the agency that has hired the worker.
The Definition of Agency Work and Contracts
Workers who are hired by agencies and then placed in a job are not officially considered employees at the place they are working. No contract will exist between the agency worker and the company they work in. A contract will exist between the agency worker and the agency, and a contract will also exist between the agency and the employing company. Due to the nature of agency work, the temp is not an employee of the company but an employee of the agency. However, this does not mean that the agency worker cannot ever be considered an employee of the company that they have been placed in to undertake work.
How Agencies Operate
Employment agencies make money by finding their workers employment with third parties. Using temporary agency workers as an example, the worker will usually sit a number of tests with the agency to make sure that they meet the agency's skill criteria. If this skill level is met and all documentation is in order then the worker will be placed on the agency's books as available for employment. It is then up to the agency to place the worker in suitable employment.
Once the worker has been placed in employment, their wages will be paid to the agency, and these wages will be passed on to the temp worker. The temp worker will be told before each job the hourly rate they will be paid but this will not be the amount that the agency charges the hiring company. In actual fact the agency may charge the hiring company up to double the temp worker's wage.
The Agency Work Contract
In the first instance the temp worker will have an interview with the agency; if all skill and documentation criteria are satisfactory then the temp worker will be given a contract. This is the employment of services contract that exists between the temp worker and the agency. This contract will include a number of specifications, clauses and expectations. These will usually include:
Hourly rate of pay
Length of employment
Information on holiday pay
Information on sick pay
Codes of workplace conduct
Information on tax and national insurance
Agency Worker's Rights
There are a number of different rights and regulations between regular employees and agency workers. For example the rate of holiday pay may differ, and holiday pay will be paid through the agency rather than the employer. However agency workers are still entitled to their statutory work rights, as are all employees. Agency workers should always check to make sure their statutory rights are covered in their contract of services. If they are not detailed on the contract then there may be fuller documentation kept within the agency office and this should be available to be viewed by the worker.
Permanent Work
In many cases temporary workers will often go on to gain permanent employment with the company they have been placed to work at. Agencies will usually have their own stipulations regarding the fees they may charge to the hiring company if the worker is given permanent employment. In some cases no fees will be charged to the company if the temp worker has been there for around 13 weeks. Under usual agency work contracts, a temp worker can decide not to become a permanent member of staff. They can in fact decide to refuse jobs simply because it does not meet with their requirements. Some people simply like the freedom and flexibility that temporary work supplies.
Rules of Dismissal
Usually under the agency work contract terms, dismissal or a job ending can be immediate. There is usually no notice required by the hiring company to end the temp agency worker's contract as they are not an employee of the company. However it has been known for a court to side with an agency worker, even if the agency contract states that a work assignment can be terminated without notice. In certain cases an appeal court has sided with the agency worker and decided that the dismissal without notice was unfair and they should be considered an employee and treated accordingly.
There are thousands of agency offices all over Britain supplying temp work. A contract for this type of work is legally required and working without a contract is an offence. Always check that statutory rights are included in agency contracts and enquire with the agency if they are not.
You might also like...
My name is Khalil I am 21 years old I am from Morocco and I have experience in this field in cooking I worked as a chef in hotels in Morocco for almost 2 years and I want to come to Romania to work
Khalil
- 29-Jan-21 @ 5:28 PM
I work for agency and recently i had to go on medical leave due to the need for hand surgery. I was released from my doctor to go back to work 2 weeks after my surgery, but my employer took upon herself to keep me off work for another 2 weeks (all with no pay). So 5 days before going to work she informed me that i could not come back to my 1st shift position or my pay, i had to come back to 3rd shift for less pay. Is this even plausible?
Sammy
- 14-Aug-20 @ 6:23 PM
I work for an agency within a company, the agency are now taking us on as permanent but I've never heard of being a permanent employee for an agency. Anyone aware of any pros and cons of this?
Melpeta
- 4-Sep-19 @ 2:14 PM
I work for an agency often after my shift starts a line may brake down and I'm sent home mid shift am I entitled to a minimum amount of payed hrs
Bob
- 18-May-18 @ 3:15 PM
Hi I've worked for an agency which has gone into liquidation I've been working in the same job for nearly 6 months I'm owed 2weks wages and 16 days holiday pay I've been told that I'm not entitled to any money owed because it was agency workers is there anything I can do
caz
- 20-Feb-17 @ 3:39 PM
I was offered a contract and got a contract the day before the start date. Terms had changed (rate, duration, title) but was rectified for title and rate after several back and fros. The agency did not provide any details for starting on the agreed date the next morning (didn't even sign the contract themselves) claiming that they didn't get a purchase order from their client. Several days passed and same statement from the agency. Having signed the contract am I legaly bound to this job although the agency refuses to sign it after the start date and more to the point, cannot provide me the information to start working? Can the contract be put aside or rescinded on the basis of not allowing me to work from the start day to date. I am of course looking for another contract now but want to make sure I am in the clear. Really unpleasant situation. Thank you
jedkar
- 12-Sep-15 @ 11:03 PM
@jeanette - it seems like one of those agencies that have fluctuations of workloads and while your employers may be on the ball at certain times of the year with things like reviews when work is quiet, they may have to change their operations when things get busy. Presumably, it seems like you have got the rough end of the stick and it is one rule for one and one rule for others. I think in this instance you would probably be better speaking to Acas as then you will be able to re-iterate the whole story. It would also be worth checking your contract to see what it says about the issues you are concerned about. You can speak to Acas via the link
here
. I hope this helps.
ContractsAndAgreements
- 25-Feb-15 @ 9:50 AM
Hi could i get some advice ive beenworking for agency now 11 month,37hrs per wk on nights. i never had a review i was always hittin my perfomance, they sett aload more agency staff on just before xmas, now some of those have just got there contracts . they made me use 2wks of my holidays due to low volumes of work then , laid me off but theres still the other agency staff working there not hitting there perfomance. i think its very unfair how i ve been treat
jeanette
- 22-Feb-15 @ 6:13 PM