What Are Office Romance Contracts?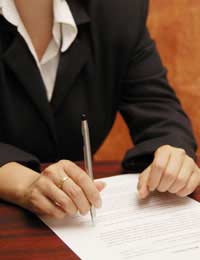 Although the concept may sound strange, office romance contracts are not a new workplace development. Many companies have strict rules regarding romantic relationships in the workplace, and one of the main reasons for this is protection against sexual harassment claims.
The Need for Office Romance Contracts
There are a number of reasons companies implement this type of contract. Many companies use a no dating between employees ethos in the workplace. The main line of thinking for this company policy is usually wasted work time between the two smitten employees or the possibility of the break-up aftermath.
If a break-up does occur between two employees then the resulting aftermath can often reverberate throughout the workplace. Many managers who have seen this happen have claimed that the couple have often acted like teenagers or love sick, high school children after the break-up. Not exactly a basis for a good working atmosphere. These reasons alone are why some companies have strict no dating rules set in place. However, unlike office romance contracts, no dating policies are usually unmanageable and can be easily avoided by crafty employees.
Sexual Harassment in the Workplace
Sexual harassment claims within the workplace due to office romances gone bad is a major reason why office romance contracts have become popular. If a romance does goes bad and one person then claims sexual harassment, the signed contract can be been brought out as evidence. If two employees are known to have a romance, especially if it is a supervisor and a lower level employee, then the company can ask that the couple sign this contract stating that they are in a consensual relationship. This can then be used as a precautionary document against any sexual harassment claim.
Company Policy
It is well known that many companies have their own rules and regulations on office dating and romances; some frown on it, some forbid it and some companies claim that it actually boosts activity within the workplace. Although office romance contracts have been used as evidence in sexual harassment claims, the actual validity of the contract as a legal document has been questioned. In house documents that may be used within a company may not actually hold much legal strength in the "real world".
Companies should make their policy on employee relationships clear from the start; many claim romances are frowned upon, but what exactly does that mean? For some companies this means that the employee must inform supervisors if a workplace romance is taking place, if they don't the alternative could be employment termination. The best policy is to have set written guidelines in place for the protection of both employers and employees, not just vague "frowned upon" rumours.
Formal Office Romance Contracts
Companies are now taking office romance contracts or "love contracts" very seriously. Although companies usually have guidelines, especially large companies with many employees, only 20% of companies have any written policies in place. The workplace is known to be one of the main places where people will meet and relationships will develop, and it is important that people know the rules. Many companies realise that it is pointless banning relationships altogether and this is when office romance contracts are brought into play.
Legal Advice
With sexual harassment claims becoming more prevalent in the workplace companies are using office romance contracts as a form of protection. It is important that companies take legal advice when drawing up these contracts and have clauses and stipulations looked over by experts. There is a fine line between a company protecting themselves and abusing human rights.
Employees who have been asked to sign these contracts have often claimed to be very embarrassed by the situation, but felt that the alternative may be transferral to another office or their resignation. Whether or not termination of employment due to not signing a contract can be legally upheld is questionable. A company that may be looking to protect itself against a sexual harassment claim can easily find itself looking at an unfair dismissal claim. For this reason alone it is important that legal advice is taken when drawing up an office romance contract.
Office romance contracts are becoming more common in the workplace. Human resource workers are now seeing the implementation of this documentation as part of their job specification. Although some employees regard these policies as further step towards a big brother ethos in the workplace they may be thankful for them if a break-up occurs.
You might also like...